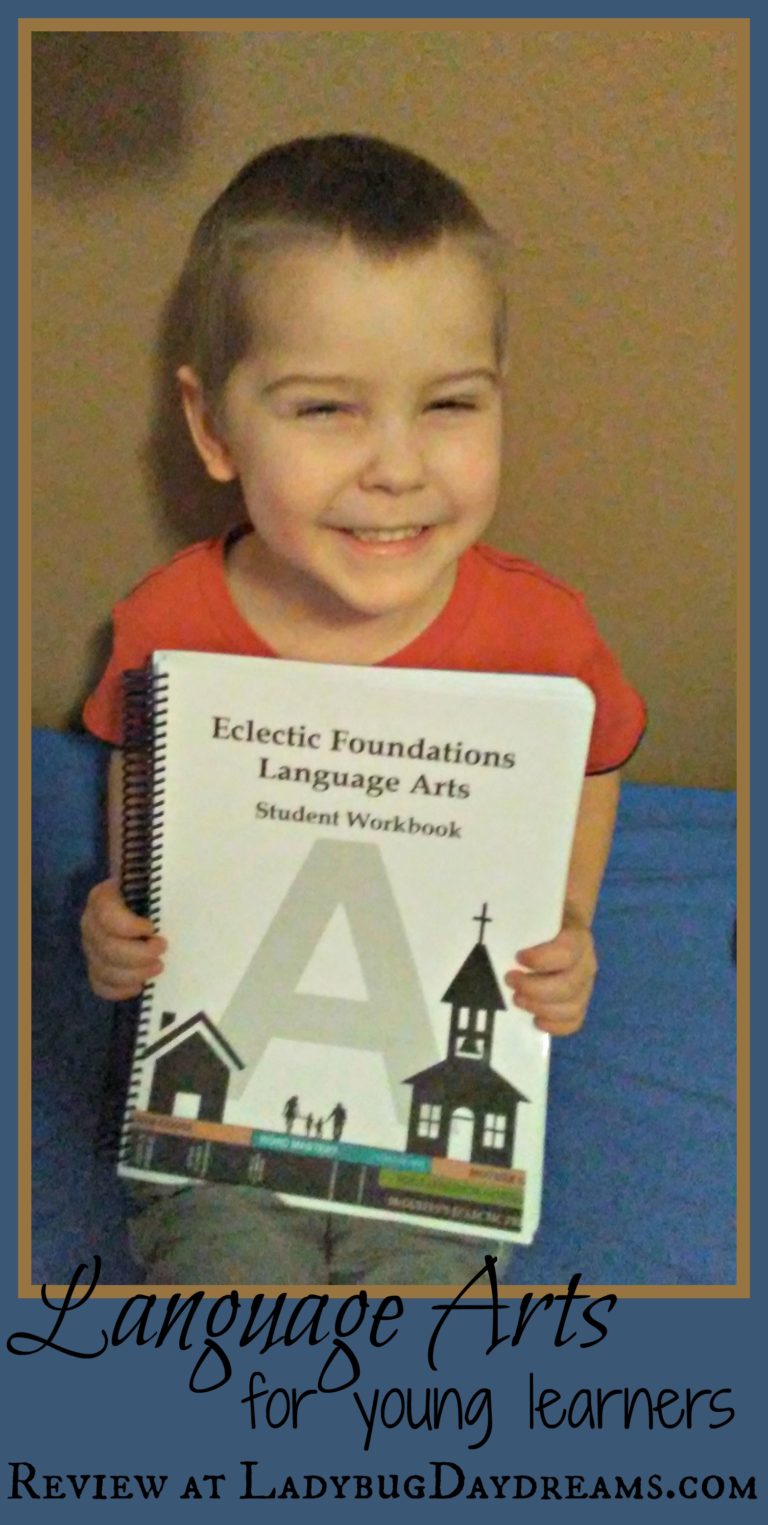 I'm at an interesting place in my homeschooling career. My two older boys are in 7th and 5th grades – one in middle school, and one nearly there. And then I have the two little boys. Small Fry is 4 years old (nearing readiness for Kindergarten), and Dragonfly is just 15 months old. Because of the age gap between Munchkin (5th grade, 10 years old) and Small Fry (age 4), it's easy to automatically dismiss review opportunities that fall between them as "not a fit based on my kids' ages." I almost did just that with Eclectic Foundations. I saw the information provided by the leadership team at the Homeschool Review Crew and immediately thought that my boys were beyond needing something like this. And the older two are.
But then I looked at the website and got to thinking, "You know, Small Fry is wanting to learn to read. Maybe a lower level would work for him." Once I allowed myself to think about him instead of just the older boys, I realized that Eclectic Foundations Language Arts Level A would probably be a good fit for us. And I was absolutely right.
There are 4 components to this program, and you need them all to run it successfully: the Student Workbook ($24), the Teacher Manual ($12), the Appendix booklet and word cards ($20) and the McGuffey reader (public domain book that's available in numerous places for cheap or free). You can also purchase a PDF download of the entire program for $30. The thing you can't do is try to get away with skipping any of the components. Some programs allow you to suffice with just the student book or just the teacher book, but this is not one of those.
Each of the books is a softcover, 8.5×11, spiral bound book. The Student Workbook is consumable, so you'd need one for each student, but all the other components are reusable in the event you have multiple students (whether at the same time or one a few years after the other). The Appendix workbook was something unique to this program – I'd never seen anything quite like it with any other language arts curriculum. It is a workbook very similar to the others (8.5×11, softcover, spiral bound), but every single page in it is laminated. These pages are used for some of the games in the program, and are designed to be written on in dry erase or Vis a Vis markers (when playing Tic Tac Toe or filling in letters around vowels, which happens in later lessons), or in some cases, just to have your child point to the correct image (during the "Starts with" and "Beginning, Middle, End" games – details on all of this later). We're not at a point yet where we've needed the word cards (they start at about lesson 65, and we're only at 21), so I can't really tell how they work yet.
Because Small Fry is just starting to show interest in learning letters and reading, we started at the very beginning – Level A (there are A, B, and C), lesson 1. So far, each week follows the same routine, which is nice. It allows him to anticipate what's coming next.
This is an open-and-go curriculum, which is very nice. There's virtually no preparation required. It's based on a 4-day school week, and each lesson takes under 20 minutes – perfect for new learners. Each day starts with a recitation of the alphabet, and then moves on to the student workbook pages. The workbook has a wide variety of activities to keep young minds interested. On the first day, they get to fill in the "letter of the week" with Play-Doh (or pipe cleaners for a mess-free experience). This day we also play the "Starts With" game. For this, there's a list of words that you read to your child (in the teacher's manual), and the child determines whether or not the word starts with the letter/sound of the week. The appendix book is used for this – there's a page with smiley faces on it, and a happy face means the word does start with the sound, and sad face means it does not. The student points to the correct image.
Other days have other activities, including but not limited to determining whether the sound of the week is found at the beginning, middle, or end of a list of words, finding all occurrences of the letter in a faith-based poem, writing the letter and simple words that include it, and reading simple words using sounds that have already been introduced (so far, we're up to "man," "Nan," "fan," "ran," and "Sam"). And then there's Small Fry's absolute favorite activity: the maze. This happens on the third lesson of the week (depending on our week, usually Wednesday or Thursday). The maze looks a lot like a word search, but instead of finding words, students are instructed to follow the path of whatever the letter of the week is, from a smiley face at the top to a smiley face at the bottom.
Using this curriculum was a breeze. The teacher manual spells everything out for you, and the student book is full of fun activities. We've been using it for just over a month now, and Small Fry (who's not even 5 years old yet) is already able to read simple words. And he's gone from being able to copy his name down to writing it all by himself. On top of being effective, it's really fun. It's not at all stressful, and my son absolutely adores having his own school to do. Every morning when he wakes up, he asks if he can "do school today." And the days that have the maze are even better!
Needless to say, we absolutely love this curriculum. I'm so glad I looked closely at the website before just assuming it wouldn't be a good fit for us, because it absolutely is the perfect fit for my precocious 4-year-old!
Blessings,

Members of the Homeschool Review Crew are reviewing all three levels of Eclectic Foundations this week. Click the banner below for more information!