---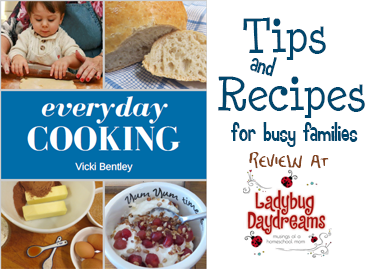 I'm always looking for new recipes, especially given our current living situation where there are tons of restrictions. So when the Homeschool Review Crew was given the opportunity to request Everyday Cooking from Everyday Homemaking, I said, "Yes, please!" I received a digital copy of the cookbook, which I printed out, hole punched, and placed in a binder for easy use.
Before I dive too much into the recipes, I want to talk about the introductory portion of the book. The author, Vicki Bentley, goes into a lot of effort to explain how to make everyday cooking as easy and time-budget-friendly as possible. For example, when coming back from the grocery store, make up a huge batch of meatloaf. Turn one portion of it into dinner that night by popping it into a loaf pan in the oven. Turn part of it into "Salisbury steaks" by making patties and placing them between pieces of wax paper in the freezer for another busy night. And use the last portion for a "ready to go" meatloaf, where all you have to do is put it in the oven and make your side dish(es).
Another idea she offers is to run a large pot of water full of vegetables and chicken pieces. Cook it all up, and when the chicken is done, debone and shred it, then package it up into meal-size portions (how much this is will vary from family to family). The cooking water goes in the fridge to let the fat harden, and then you can scrape that off and you're left with homemade chicken broth. There are also loads of tips for making your meat (and therefore you grocery budget) stretch further.
After this section, there are a few pages of breakfast ideas. These are things that are easy to pull together without being full-blown recipes, including some that can be made the night before or put in the crockpot before bed so you have a delicious, healthy breakfast waiting when you wake up.
Then she dives into the "official" recipes. They are split up into several categories (you could call them chapters):
Appetizers, Dressings, and Drinks
Breads and Grains
Main Dishes, Soups, and Sides
Desserts and Snacks
Low Carb/Gluten Free Pantry Helpers
Then at the end, she wraps the cookbook up with several sections of general kitchen guidelines:
Basic measurements and helps
Meal planning and shopping hints
Basic cooking skills
For Students: food and nutrition mini unit
Basic kitchen accessories
Kitchen equipment
Slow cookers vs. Pressure cookers
Pressure cooker tips and favorites (including recipes)
Index
Once I got my cookbook printed and bound, I started going through it to get ideas for dinners for the next few weeks. The first one I made was Porcupine Meatballs. This is a recipe that my husband grew up with, so I thought it would be interesting to try out a new version of it. Even though Vicki's recipe was less sweet (it's made with tomato sauce instead of tomato soup), it was a huge hit with my family – including my very picky step-mother-in-law and my father-in-law who has severe dietary restrictions (he's recovering from cancer and chemo). We liked these meatballs so much that I've already made them twice. The second time, I was working on the fly and didn't have the exact right ingredients (I had to puree up some canned tomatoes because I was out of sauce, for example), but it didn't matter. They were still delicious.
A day or two after the success of the meatballs, I pulled out the two roasts I'd bought from the freezer (yes, two – I'm feeding eight people!). I popped them into the slow cooker with the ingredients for the Mom's Roast recipe, and later that evening, I just had to heat up some frozen vegetables and we had a delicious, nutritious dinner ready to go. There was even enough leftovers from the meat (another reason I'd bought two roasts – I wanted leftovers) to make a beef pot pie for dinner later in the week.
The last recipe we've tried (so far) was the Chicken Broccoli Braid. Following the recipe, I made what turned out to be a chicken salad type stuff, then placed it inside a crescent roll crust and baked it all up together. This was definitely the most beautiful of all the recipes I tried. Beauty aside, though, we didn't like it as well as the others. I'd tasted the filling before cooking it in the crust, and it was delicious. But once it was cooked in the shell and heated through, it was less impressive tasting. That said, I would definitely make the filling again and use it as a sandwich filler. That would be amazing!
Most of the recipes in this book don't work for our current situation, unfortunately. My father-in-law can't eat poultry; that eliminates all of the chicken recipes for dinners. (We had the Chicken Broccoli Braid one of the days when my in-laws were on vacation and it was just my nucleus family.) Beef is crazy expensive, so we don't use it too often. And Everyday Cooking only has 3 pork recipes (our meat of choice for feeding 8 people on a budget). But… the recipes that I have tried have been slam dunks. I'm sure the rest of them (at least a large majority of them) will be, too. I can't wait to find out!
Through September 5, use coupon code TOS10books to get 10% off Everyday Cooking or The Everyday Family Chore System. There are no limits with the code, so it's a great time to stock up for holiday gifts.
Blessings,

Members of the Homeschool Review Crew are reviewing two books from Everyday Homemaking this week: Everyday Cooking and The Everyday Family Chore System. Click the banner below for links to reviews of both books.