Disclosure: I received this complimentary product through the Homeschool Review Crew
Progeny Press has been a staple in our homeschool for many years. Way back in 2014, I did our very first one, Little House in the Big Woods, with Ballet Boy and Scorpion (when they were so small!). This summer, Grasshopper has been working on the Farmer Boy Study Guide (for grades 4-6).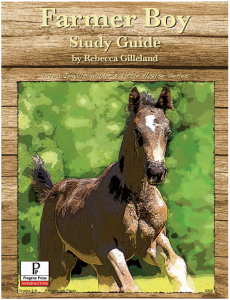 Progeny Press study guides are good for so many reasons. They not only offer lots of comprehension questions for the books they're for, but there's also loads of opportunity for students to practice their deep thinking skills. The Gillelands, who own the company, also strive to show students how they can find scriptural application to a variety of different literature selections. This is what really sets Progeny Press apart. That biblical application, even to secular books, makes them very different from almost every other literature company out there.
I chose to have Grasshopper do the Farmer Boy study guide this summer for a few reasons. First, it was the only one being offered in his age range (ha!) this year. But I would have chosen it anyway because he loves the Little House books. He's been listening to them on Overdrive (our digital library app) for years. The other main reason I selected this one is because we already owned a beautiful, full-color version of the book that he's not yet read on his own. Being able to dive right in without needing to wait for Amazon delivery (or purchase an ebook) was right up my alley this year.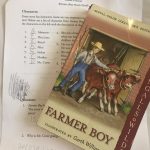 Progeny Press always recommends that students read the entire book and then work through the study guide. There's the caveat, though, that if another method works better for your student/family, then do that instead. I find that my children do better if we work the book and study guide in tandem rather than whole/whole. For this reason, I only printed out the pages we needed, when we needed them. I assigned Grasshopper the first four chapters to read (because it's summer and he'd rather play outside than read – which is one of his favorite activities – he just did about 3 chapters a week), which are all under the umbrella of the first section of the study guide. When he had finished that reading, we worked on the study guide together. He did a lot of it on his own, but some of the vocabulary words were a bit tricky for him, so I did help with that.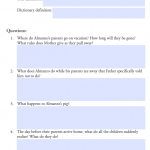 Because my son doesn't have his own computer (and frankly, I prefer it that way), we did the paper and pencil method. Progeny Press study guides are sold as editable PDF documents, which means with an older student or one who is computer-savvy could do the whole thing on the computer, negating the need for a printer.
The other thing that really sets Progeny Press apart from other literature study guides is their focus on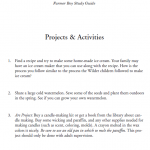 projects and activities. And the Laura Ingalls Wilder books are perfect for families who are either already really into homesteading or interested in giving it a try on a small scale. You can see from this page in the study guide that the activities involve a lot of things that are traditionally done during a sort of "pioneer days" field trip that public school kids might take (I remember doing one such trip in 4th grade). We already have an automatic ice cream maker, so this was an easy one to do, and something we do semi-regularly throughout the year anyway. We live in a apartment right now, so we couldn't try to grow watermelon (but we sure do like to eat it!). We haven't tried the candle making yet, but I've seen loads of tutorials on YouTube lately, so it will absolutely be something for us to try this fall.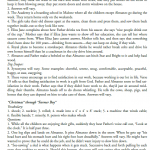 Progeny Press also provides an answer key in a separate file. It's recommended that you save that on a different computer if your student is using their own (for obvious reason). I didn't have to do that because, as I mentioned, Grasshopper rarely uses a computer and when he does, it's very specific assignments on my laptop. This answer key makes it really easy to check your student's work, or help guide them to the right answer on a comprehension or vocabulary question if you as the parent are unsure.
All in all, I love Progeny Press study guides. As long as they continue to offer them to members of the Homeschool Review Crew, I will continue to request to review them. Make sure to click through to read reviews of other study guides from my fellow crewmates (the other options this year were The Story of Ping for K-2, The Last Battle for grades 5-8, and The Fellowship of the Ring for grades 9-12).
Blessings,