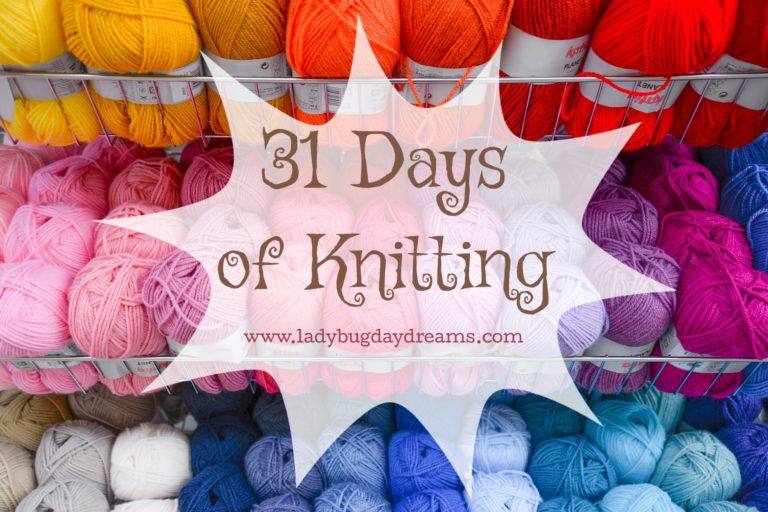 There about as many different types of knitting needles as there are knitters who use them. Plastic, metal, hardwood, bamboo, even bone. And that's just the materials the needles themselves are actually made from. You also have straight needles, circular needles, and double pointed needles (more on those differences tomorrow). And the size of the needles is another thing to consider.
Big box stores are going to have a much smaller selection to choose from. If you go there, you're likely to only find plastic or aluminum needles. At a "local yarn store" (LYS) you'll have many more options.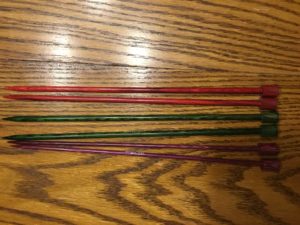 My focus is on my favorite needles, though. Not all the different varieties on the market. My taste in knitting needles is quite small; in fact, I've really only used two kinds. I have a couple of sets of bamboo double pointed needles that I bought cheap from Amazon, and they do a fine job. But my very favorite are my Knitter's Pride Dreamz needles. These are the basic needle available at my LYS, and therefore the kind I bought for my knitting class. They are made from a strong, polished wood, and each size (diameter) is a different color so you can tell the apart quickly and easily. The points are sharp enough to allow you to go through stitches easily, but not so pointy that you split stitches. Because they're wood, they give your yarn a little grip, making the dreaded dropped stitch less of an issue (not a nonissue, though). I can not recommend these needles enough, especially for a beginner.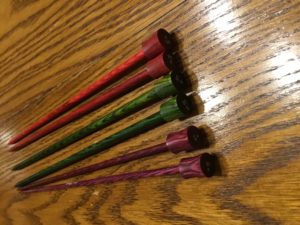 This post is not sponsored in any way. Every pair of needles I own, I've purchased. Knitter's Pride has no idea who I am, and I was not compensated for this post. I just really love their product and wanted to write about it today.
Blessings,