Disclaimer: I received a FREE copy of this product through the HOMESCHOOL REVIEW CREW in exchange for my honest review. I was not required to write a positive review, nor was I compensated in any other way.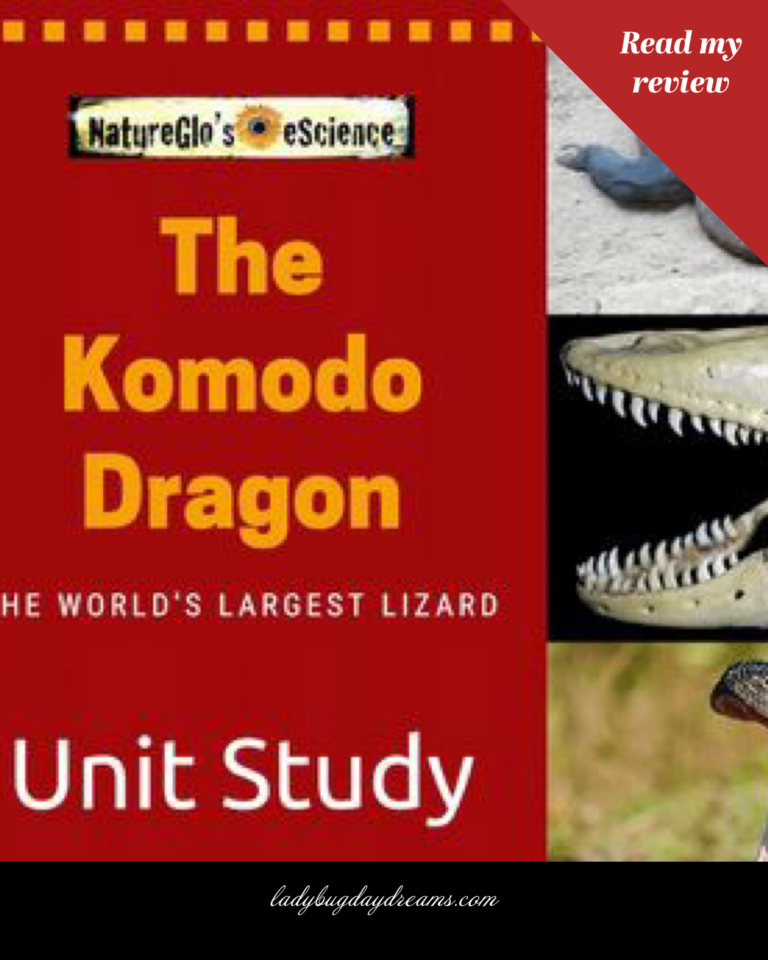 Science has the possibility to be tricky, especially as your kids get older. We use a textbook for Ballet Boy (16), but Scorpion (14) isn't quite ready for that particular text. So when I saw that there were review slots open for NatureGlo's eScience MathArt & Science Course Bundle, I applied. The course is completely digital, and there are 25 different unit studies for ages 10 and up. I let Scorpion look over the lesson options when we first got access and choose which one he wanted to work on first. He chose the one on Komodo Dragons.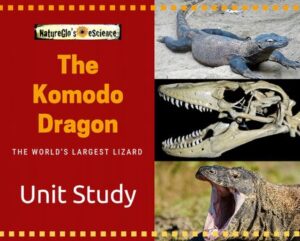 The Komodo Dragon study in NatureGlo's eScience includes 7 lessons:
Main lesson slideshow with study guide (this is sort of like the syllabus for the course)
10 amazing facts about Komodo Dragons
History connection (a short video with questions about Joan Beauchamp Procter – fascinating lady)
Geography connection (a lesson on the Indonesian islands)
Art connection (how to draw a Komodo Dragon)
Literature connection (read an Indonesian folk tale)
Creative writing (write your own version of that folk tale)
Some of these lessons take a little longer than others (the writing one, particularly), and for that reason some of them would spill over into multiple days for us. Generally speaking, though, Scorpion was able to work through one lesson each time he sat down. I had him work an average of twice a week, so he was able to finish this unit study in under a month. He liked it so much that when he finished, he chose to continue in the Herps Explorers series and moved into Frogs, Geckos, Chameleons, and More.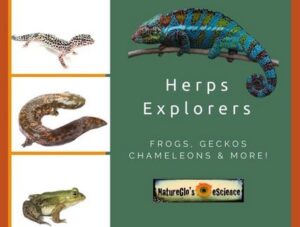 This second unit study is much longer than the first one. The Komodo Dragons study is considered to be a "one lesson" unit, while the Frogs (etc) study is classified as a 6-week study. It wasn't until I got into that study with Scorpion that I realized we probably moved a bit too slowly in the Komodo Dragons study. Comparing the "one lesson" to the "6 week course," I could see that each of the 6 components in the latter have the same number of lessons, so I've had him start logging in each day to work on science instead of just a couple times a week.
The lessons in the Frogs study are not the same as in the Komodo Dragons study. The Frogs, because it's broken down into six individual lessons each with its own focus animal or group of animals, pulls different "connections" (art, literature, etc) in throughout the six weeks (and therefore during a different animal focus) rather than all being present in each animal's lessons. This keeps things from becoming predictable, monotonous, and overwhelming. Over the course of the six lessons, though, all of the components are there – as well as much more, as you could probably guess based on the longer length of the study.
Animals covered in this study are: Frogs and Toads; Dwarf Geckos and Chameleons; Geckos; Giant Salamanders; Turtles; and Marine Turtles. At the end of the six lesson course, there is a review and a certificate of completion.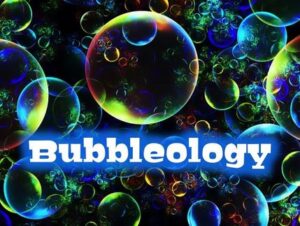 Animals aren't the only options for lessons on the NatureGlo's eScience program, though. For example, there's one on Bubbeology, which is another "one lesson" course. When I opened up that one, I could see easily how that would be done in just one lesson (as opposed to seven, like what we did with the Komodo Dragons). There are only two things in this lesson: the overview and "projects, activities, and videos." I didn't see any of the "projects," but there were some pre-lesson questions/activities listed in the overview lesson. Grasshopper saw me looking over the lessons to write this review and expressed some interest in the Bubbleology one, so even though he's below the age range I'll probably find some of the videos listed on YouTube for him to watch.
Beyond the science aspect of NatureGlo's eScience, there's the MathArt aspect. We haven't explored that very much, but the concept strikes me as pretty awesome. As it sounds like, it's a way of combining math and art in the real world by looking at things like patterns in nature, architecture, plant growth, and more. It also teaches about the Golden Rectangle and Fibonacci Numbers.
So, what did we think overall?
From Scorpion:
I liked the topic of the Komodo Dragons study. It was pretty straightforward and didn't take me too long per lesson to finish. I liked that it covered a lot of different subjects within one topic. I haven't done a unit study since I was a little kid, and this reminded me how fun they can be.
From Mom:
The content of the lessons is really good, and well thought out. I had a bit of frustration in the logging in process each time because moving from the log in page to the courses list isn't very intuitive, and sometimes required me to log in twice. But once we got the hang of exactly where to click to avoid having to do that, I thought the program was awesome!
Click through to the Homeschool Review Crew blog to read more reviews from other families.
Blessings,