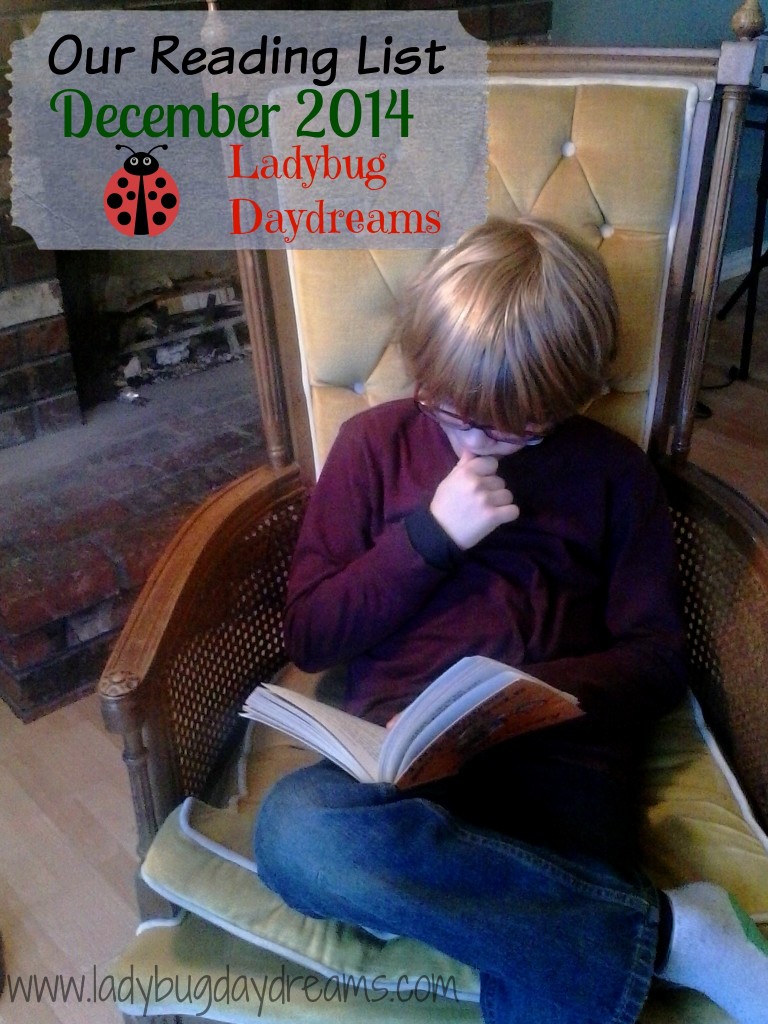 Here are in a new month. Can you believe that it's December already?! A new month means time for a new reading list. Here's what we're reading in December.
Read-Aloud – everyone
I found a book called A Newberry Christmas at the library. It's a collection of 14 short stories by beloved authors including Beverly Cleary and Madeline L'Engle. We're really excited to dive into this one!
Wendy – that's me!
It's my turn to get Gray Mountain, the new John Grisham book from the library. I just got the email notification Wednesday morning that it's ready to pick up, so I'll be doing that very soon. Super excited! John Grisham is very near the top (probably at the top, honestly) of my favorite authors list.
Seahawk – 5th grade
Assigning my non-reader a novel a month has been working out really well. You'll remember that he read Holes last month. Well, I'm pleased to report that he absolutely adored it. His words: "It's my favorite book that I've ever finished!" When he finished the book, we did family movie night with the film. It was almost as big a hit as the book.
This month, I've picked a book for him that also has a movie. The difference this time is that it's a movie we already own the DVD version of: Inkheart by Cornelia Funke. It's been a couple of years since the boys watched the film (starring Brendan Fraser), but they used to love it, so I thought it would be a great choice for Seahawk's assigned book. It was originally written in German, so it will be a good culture study for Seahawk as well. Even though he's reading a translated version (of course), it likely won't be like a "normal," American book. Also, it's about twice as long as any book he's read before (a whopping 532 pages). That will give him the confidence to read much longer books. Because of the book's length, though, I'm giving him both December and January to read it. I don't mind it taking him more time to read longer books, but I do want him to be exposed to books of all sorts of difficulty and length. I picked this one for this time of the year because we typically take school things easy in December, so he'll have more time to read.
Munchkin – 3rd grade
Munchkin has already finished his book club book for this month (Love that Dog by Sharon Creech). He was asking me for something to read on Monday this week (when the library is closed), so we dug through our personal library, where I
found The Mouse and the Motorcycle by Beverly Cleary for him. He's moving
through that at an incredible clip (after only two days, he was halfway done), so I picked up Ella Enchanted by Gail Carson Levine from the library for him to dive into when he finishes Motorcycle. This is another one that is a movie (a more famous one
than Inkheart), and Munchkin watched it one day about a year ago when he was sick. He thought the movie was hilarious, so he's looking forward to reading the book.
Small Fry – age 2 1/2
Small Fry is still really into Franklin the Turtle. Franklin books are really fun, so I'm happy to get them from the library and read them to him as often as he likes :).
What are you reading this month?
Blessings,

Links are provided for your convenience. They are not affiliate links. I receive no compensation for your purchase.