Disclosure: I received this complimentary product through the Homeschool Review Crew.
Several months ago, my husband took a Brazilian Jiu-Jitsu class. Without telling anyone. Then when he came home, he challenged Ballet Boy to a roughhousing match (they horse around all the time – have since Ballet Boy was small), and took him out. This was quite a surprise for Ballet Boy because as he's grown, he's gotten closer and closer to being able to win in these matches against his dad, but after the secret self-defense class, Dad gained the upper hand once and for all.
Then we found out the Practice Monkeys review. Ballet Boy was quite interested in taking their self-defense class. That incident with Dad was a motivator, but he likes being physical in general, so he would have been interested in the class even if it hadn't happened.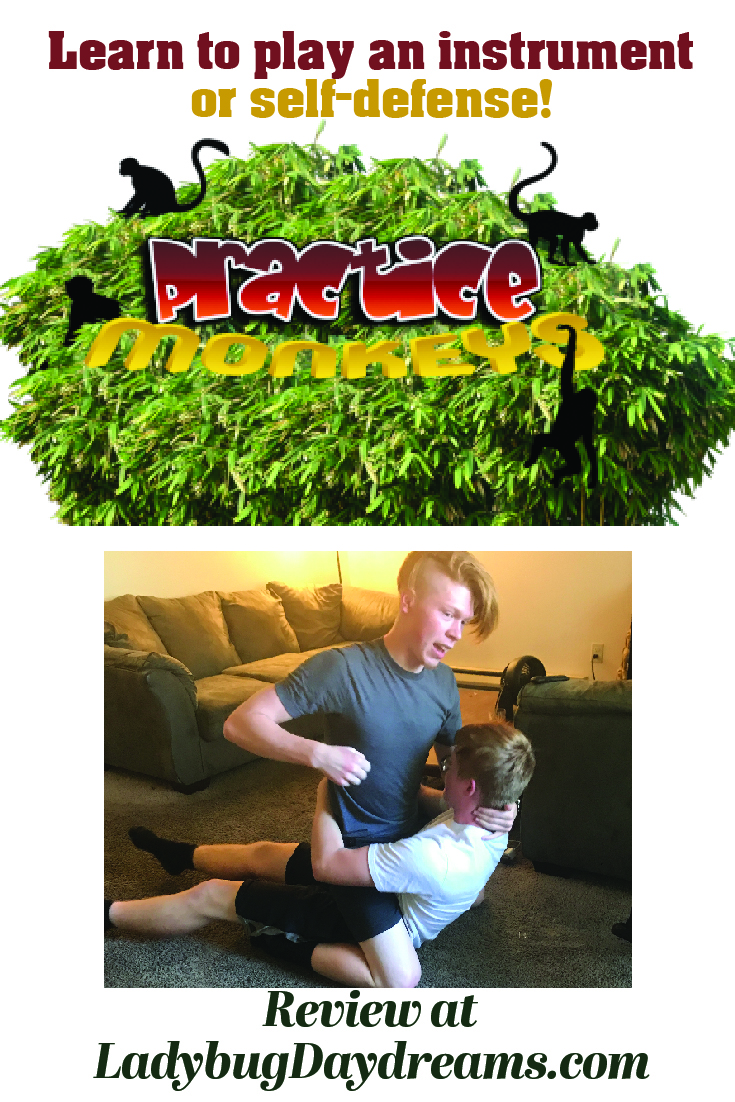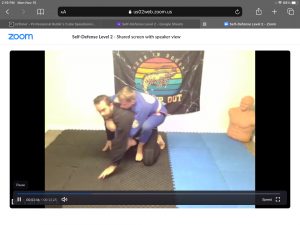 The self defense class (for ages 5 and up) through Practice Monkeys teaches Brazilian Jiu-Jitsu (BJJ), and when you sign up the first thing you have to do is schedule an initial assessment. This, and all the classes, are live sessions taught via Zoom. The assessment is a private meeting with the teacher of the class, Dr. Peter van Kleeck. Once you've had the initial assessment to determine which level your child needs to start with, he will add the proper lesson to your dashboard. Classes are taught live with Dr. van Kleeck and his son, Titus, four days a week. Each class lasts 15 minutes and students are encouraged to practice an additional 15 minutes each day on their own. Each student needs a partner for this class (unlike the music classes that Practice Monkeys offers), so Scorpion took the class with Ballet Boy. Our initial plan had been to have Grasshopper and Dragonfly also take the class, but after just a lesson or two they decided they weren't interested. It is helpful to have the students be of similar size for the class.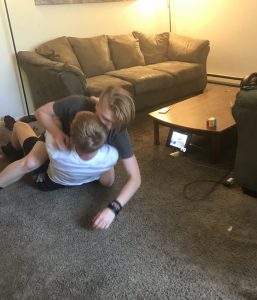 After our initial assessment, the kids were put into Level I. This wasn't a surprise as they hadn't had any sort of training in this art before. The classes were at the same time every day (Monday through Thursday), so I set an alarm on my phone to help us remember to sign in for the live classes. To access the Zoom call, you have to first sign into the Practice Monkeys website. From there, you can find the Zoom link on your dashboard. Because of the nature of Zoom, the daily classes aren't private. All of the students at your level in your course are there together, but you don't see them; on your end, you only see Dr. van Kleeck and Titus. They teach the material and then have your students practice while they watch. It was pretty rewarding on my end to hear him praise my kids during the lessons ("Yes! Good job, Robertsons!"), and I also appreciated hearing him talk to the other families taking the course. It really showed that he was watching all the kids and making sure they got the material.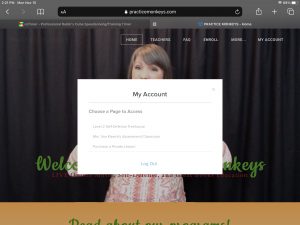 What if you miss a live class? While the live classes are better because of the feedback you get from Dr. van Kleeck, you don't miss out if you can't make it. All of the Zoom calls are recorded and at the end of the week added to your "treehouse." This is where you go to watch past lessons, either for extra review or because you've missed one (or more) live class. I do wish that these classes were uploaded later on the same day they were recorded, but I understand why that might not be feasible for the van Kleecks.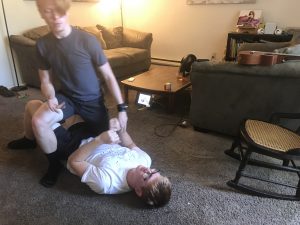 After you've been in the class for a while, you'll be invited to take an assessment in order to move up a level. In the self-defense class, this was an individual Zoom call with Dr. van Kleeck. You have to schedule them through your account in the Practice Monkeys website, and then you access the Zoom call the same way you do a live class at the right time. The assessments take 25 minutes. To determine whether my sons were ready to move from level 1 to level 2, they were given a spoken instruction and Dr. van Kleeck watched to see if they succeeded based solely on the name of the move. They did, and by the time of their next class, our account had been updated to allow them into the level 2 class instead of the level 1 class (same thing, just 15 minutes later).
Ballet Boy and Scorpion have been having a blast learning self-defense with Practice Monkeys! We haven't made it to every live class, but they do their best to make up the classes on their own when we miss one. The classes take place in the middle of the afternoon in our time zone, so it's not always feasible to make it live (sometimes Ballet Boy is working, for instance). There have also been times when Zoom was acting up and the kids could see the class but couldn't hear the instructions, so to avoid the inevitable frustration that would cause they opted to do those classes later as well.
Practice Monkeys' main emphasis is instrument instruction, so if you or your child have ever wanted to learn violin, cello, piano, or guitar, then you should absolutely give them a chance. Practice Monkeys is priced per instrument (or BJJ) for the entire family. So if you have two guitar students, they can take the class together (at the same time). If you have a piano student and a cello student, though, you would need to purchase 2 subscriptions for those lessons.
I can't recommend Practice Monkeys enough; Ballet Boy is even interested in continuing his BJJ lessons beyond our review subscription (that's something he'll be talking to Dad about!). Make sure to head over to the Homeschool Review Crew site and learn more about all the different types of lessons, though.
Before I finish up, the biggest question still remains: Can either of the kids "take out" Dad now?
Not quite. But with the skills they've learned, they don't go down quite so easily.
Blessings,