Happy Thanksgiving! In celebration today, I have a review and giveaway for one of the things we as Christians should be the most thankful for today: the Bible.
Bible reading is a super important part of the life of a Christian, and a lot of us feel like we "need" more than just text on a page to keep us going on that each day. If that's you, then I have just the right Bible to tell you about today: the ESV Illuminated Bible.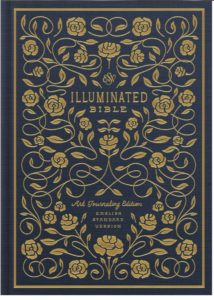 This Bible is a super nice hardcover edition that comes in a box. The cover is dark blue with gold embossing all over. The cover itself is gorgeous, and once you open it up, it just gets better. The Bible (as you can tell from the title) is the English Standard Version, which is the one my family prefers. There's a single column of text on each page (instead of the standard two columns most bibles have), plus lots of room for you to make your own notes and drawings. Some of the pages have specific verses written in decorated text in those margins, and many of the books (64 of them) have their own illuminated (fancy illustrated) opening page.
The Bible is printed in 9-point Lexicon black ink, and the illuminations are printed in gold, matching the cover. The two color printing is really nice together. In addition to the 64 Bible book opening pages, there are another 50 full page memory verse illustrations and over 250 small, in the margin, illustrations. All of the drawings are by American artist Dana Tanamachi, whose work has been featured by companies such as the USPS and Target.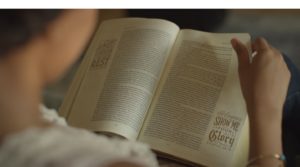 If you're into the new craze of decorating your Bible with your own thoughts and colors, then this is absolutely the Bible for you. The wide margins give ample room for those notes and drawings that I've seen all over Instagram. The only downside I can think of to this Bible is that it's quite big and heavy. It's probably not the one you want to carry around with you every day for basic reading. But for studying and taking notes in your own home, it's a great option. You can purchase a copy of the Bible on Amazon.
If you want to win a copy of this Bible for your very own, just fill out the Giveaway Tools widget below. The giveaway will run through Thursday, November 30 at 11:00 p.m. PST. Winner will be contacted via email and announced here on December 1st, 2017. Good luck!
Blessings,

Disclosure (in accordance with the FTC's 16 CFR, Part 255: "Guides Concerning the Use of Endorsements and Testimonials in Advertising"): Many thanks to Propeller Consulting, LLC for providing this prize for the giveaway. Choice of winners and opinions are 100% my own and NOT influenced by monetary compensation. I did receive a sample of the product in exchange for this review and post.