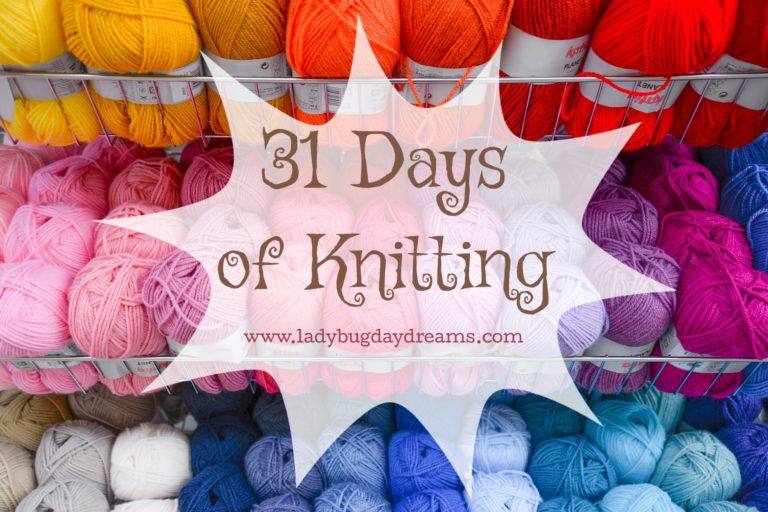 Yesterday I wrote about my favorite knitting needles and pictured some of my Knitter's Pride Dreamz straight needles. Today I'm going to explain the difference between straights, circulars, and double pointed.
Straight Needles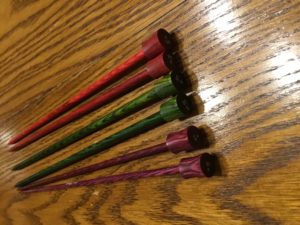 These were my very first knitting needles, and they're great for learning. Straight needles are defined by their long size, point at one end, and a stopper of some kind at the other end. This stopper prevents your stitches from sliding off the back of the needle while you're knitting; this is why they're good for beginners.
Straight needles aren't just for beginners, though. They're also good for anyone making a flat project. I've even knit sweaters on them before (by knitting the pieces individually and sewing them together at the end).
Circular Needles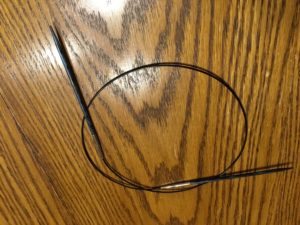 Most knitters I've come in contact with over the past couple of years prefer circular knitting needles. They're great for any kind of project, either flat or round (tubular). With circular needles, you can join your stitches to knit around and around in a tube, or you can turn the work over at the end of the row and knit back and forth to create a flat piece. You can also use the "magic loop" method to knit small diameter things, but I don't particularly like that, so I won't focus much on it.
Double Pointed Needles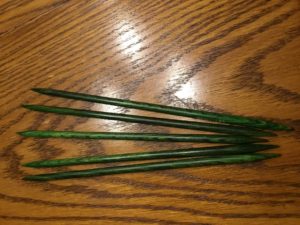 Double pointed needles (DPNs) are use for knitting small diameter projects in the round. They're mostly used for the tops of hats and sweater sleeves. DPNs come in a set of 5, and each one has points at both ends (rather than one point and a stopper). They're also quite a bit shorter than straight needles. When you use DPNs, you put 1/3 of the stitches on each of three needles and then use a fourth to knit with, one needle at a time (just like straight needles). When you get to the end of one needle, you rotate your work, move the now-empty needle from your left hand to your right, and keep going.
The main downside with DPNs is that they don't have that stopper on the end, so it's very possible for your stitches to fall off. It's not a huge risk so long as you don't fill them up too full; typically there's plenty of room on a given needle to keep the stitches in the middle and avoid them being dropped.
Blessings,