When my older kids were small (circa 2009), a friend gave us a set of fuse beads. You know the kind: make a picture on a small peg board and iron them to melt the beads together. Easy enough, but not very kid-safe. Now there's a much friendlier option: Super Beads from Zirrly. Remembering how much fun the older boys (especially Seahawk) had way back then, I thought they would like to try these.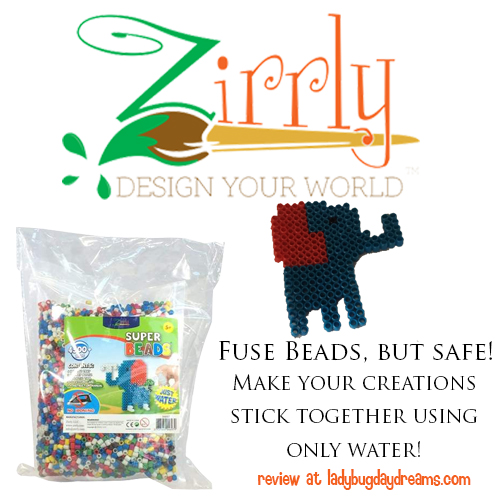 Knowing how creative my kids are, I chose to review the Mega Pack of Super Beads. They have specific kits (birds, animals, cars, etc), but I chose the generic pack for my kids. The Mega Pack comes with 4 interlocking peg boards (which can be used individually for small projects or connected together for bigger ones), 4500 beads, 4 design templates (5 each of 4 designs – elephant, turtle, apple, and cupcake), 2 spray bottles, the design tool (to help lift the beads off the tray, either after they're fused or before if you made a mistake), and an instruction sheet.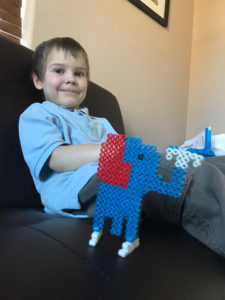 I had the kids use a couple of the templates to get the hang of the Super Beads before I let them branch out on their own. Small Fry (age 5) was the first one to create with the beads; he chose the elephant for his first project. He did it largely without help, which was great as he's at the very bottom end of the recommended age. I put the template under the peg board for him, and then he did the rest basically on his own. Once he'd gotten it (nearly) perfect, we filled up one of the water bottles and spritzed his creation all over. The instructions say to get it wet but not to soak it so much that it sits in a puddle, so we were fairly liberal with the water. We let it dry for about an hour, then tried to peel it off of the board. After having a little bit of trouble, we decided to let it dry for longer. Then it came off fairly easily using the design tool.
Munchkin (11) was next. He had seen how they work from his younger brother (and really, it's not so complicated for an older kid). So he took one of the template designs and improved upon it by making an apple with a worm. He's also made several of his own designs, including a bee and a rainbow fish.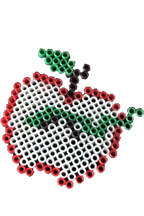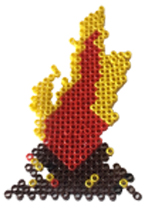 Seahawk (14) was the one who really liked fuse beads as a young child. Combine that with his current age, and I pretty much let him go to town from the very beginning. He's made several things. I think the little kids' favorite of his creations is the Troll Hunters amulet (they love the show and love playing games around the plot). But the piece of his that I'm most impressed with is the campfire.
After some trial and error, Seahawk came up with a "new" method of drying the beads so that the designs stuck together better: dry it overnight on the peg board, then remove it and let it dry on the other side for an hour or two before playing with it. Ever since we started doing that, we haven't had any problems with our creations falling apart. Except for the time when Dragonfly, age 2, got hold of one of them and ripped it apart. But even then, he just pulled the legs off an E (which was fairly fragile in the first place as it was only connected by 2 beads in any specific point); he couldn't split it back to individual beads.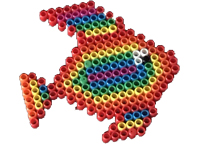 My kids have had so much fun with the Super Beads from Zirrly. Small Fry, especially. He asks basically every day if he can build something with the "water beads." It's a really great way for him to spend some time alone (if he's feeling overwhelmed or even if I just need him to be occupied for a few minutes while I do school stuff with the older kids). I love that he's having fun and that it's screen-free time. I definitely recommend them!
Members of the Homeschool Review Crew are reviewing all sorts of options from Zirrly this week, including some of the kits I mentioned earlier: Jungle Animals, 3D Animals, Birds, 3D Car and Truck, Spinning Tops, Jewelry Set, and of course the Mega Pack. Click the banner below for more information.
Blessings,