Studying the Bible is important for everyone, not just kids and not just adults. As Christian parents, it's a huge part of our job to raise our children to become God-fearing adults. A huge part of doing so is by studying the Bible. As part of this obligation (and I don't use that word in a bad way), I almost always choose to review Bible studies when they come up as options through the Homeschool Review Crew. This time, we've been studying Genesis using Bible Study Guide for All Ages. Because of the ages of my kids, I'll be talking about the Beginner (3-K) level and the Advanced (5th and 6th Grade) level.
The timing on receiving this worked out pretty well because we'd just gone back to the beginning of Genesis in our family reading. Each evening, we try to read a few chapters aloud as a family (Will reads, everyone else listens; those who know how to read follow along in their own Bibles). Then the next day, I go over the section again with the children in the mornings while Will is working. This way they get each section twice, which really reinforces what they're learning during family time and prepares the boys for the next section. My time with the boys is when I pulled out the Bible Study Guide for All Ages.
Beginner (3-K)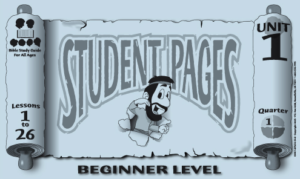 For anyone who's read much on my blog at all, you know that I have two kids this age (well, one is 2 1/2, but close enough). We received one workbook in this level (the Unit 1 workbook) plus one copy of the Beginner Timeline. These materials are designed for "non reading children ages 3 and up." The workbook is larger than a normal workbook, about legal size and bound on the short side so it's long. It includes lessons for one quarter of the year, assuming you work at a pace of 2 lessons per week. We didn't move quite that fast because we used it to supplement the reading we were already doing rather than as a standalone curriculum. Instead, I had Small Fry (6 years old this week, just finished Kindergarten) do the pages that corresponded with the section we had just read.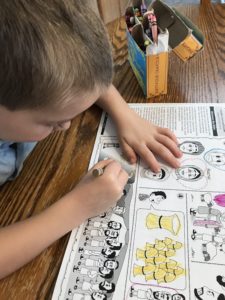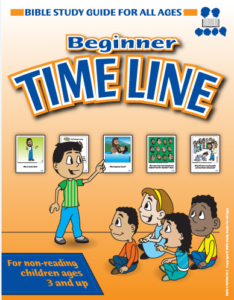 Each lesson is broken down right in the student workbook with instructions for the teacher/parent. It starts with showing a timeline card and asking the question on the card. The cards are in the order that the events occurred in the Bible (of course, since it's a timeline). Each one is 8.5 x 11 and printed on cardstock in full color. They're quite durable. This makes it a good resource for a group of small children – not only are they durable enough to stand up to reasonable use, but they're also big enough to see without being right up on the card.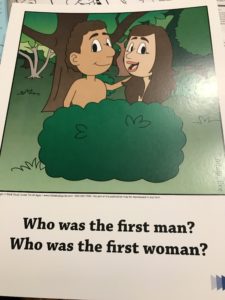 After working through the flashcard, there are a few activities to help children learn the basics of the Bible: reciting books of the Bible in order, singing songs, answering questions, etc. Then there's a short lesson including an "apply it" section. On the backside of the page is an age-appropriate paper activity.
Advanced (5th and 6th grade)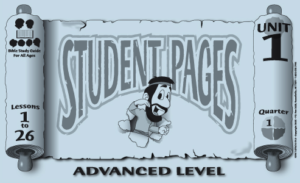 For this level, I received one copy of the student workbook and a teacher guide, plus a set of Small Bible Book Summary Cards.
The workbook is the same size as the beginner version, but the activities are much more difficult (as suggested by the level). It starts with several memory activities to help students remember what they'd learned and read previously (it starts in Genesis 35, so there's a lot of stuff that's not specifically covered but is "reviewed" in the lessons so it's not totally ignored). Activities include things like putting Abraham and his descendants in order from oldest to youngest, memorizing the book summary from the card, answering questions about the timeline of events, and then reading the Bible section and answering questions.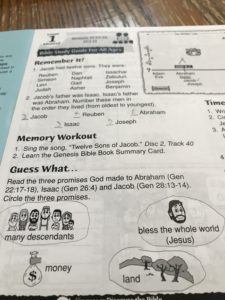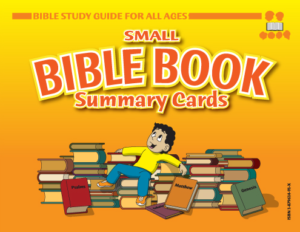 The summary cards are just what they sound like. Each one has color images on one side and a lot of black and white text on the other. There are also questions on each one to help make sure children are understanding what they read. The pictures represent the main events that happen in that book, and the writing on the back contains more details. It also explains the title of the book (Genesis means "beginning," for example) and what type of book it is (history, poetry, prophecy, etc).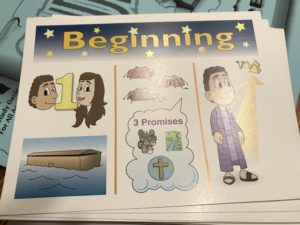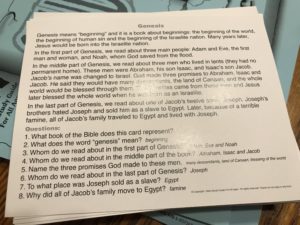 This has been a really positive experience for our family. We've enjoyed exploring the Bible more thoroughly than "just" reading it. I'm not suggesting that simply reading the Bible isn't enough, but it's nice for children to be able to have some supplements to help them remember what's been read more readily. I'm glad I've been able to work through this with them.
Blessings,