When I made the "A-Maze-ing" sweater for Grasshopper last spring, he absolutely adored it. I really loved the way it looked on him, too. But a couple of months later, disaster struck. The sweater, which I'd made from non-superwash wool yarn, got tossed in the laundry, unbeknownst to me. I was horrified when I picked it up out of the basket of clothes from the dryer as I was folding them. It was much too small for him to wear any longer.
Silver lining is that the stitch definition is still pretty good, and the sweater now fits Dragonfly. It's the tiniest bit stiffer than it used to be, but at least it still gets to be worn.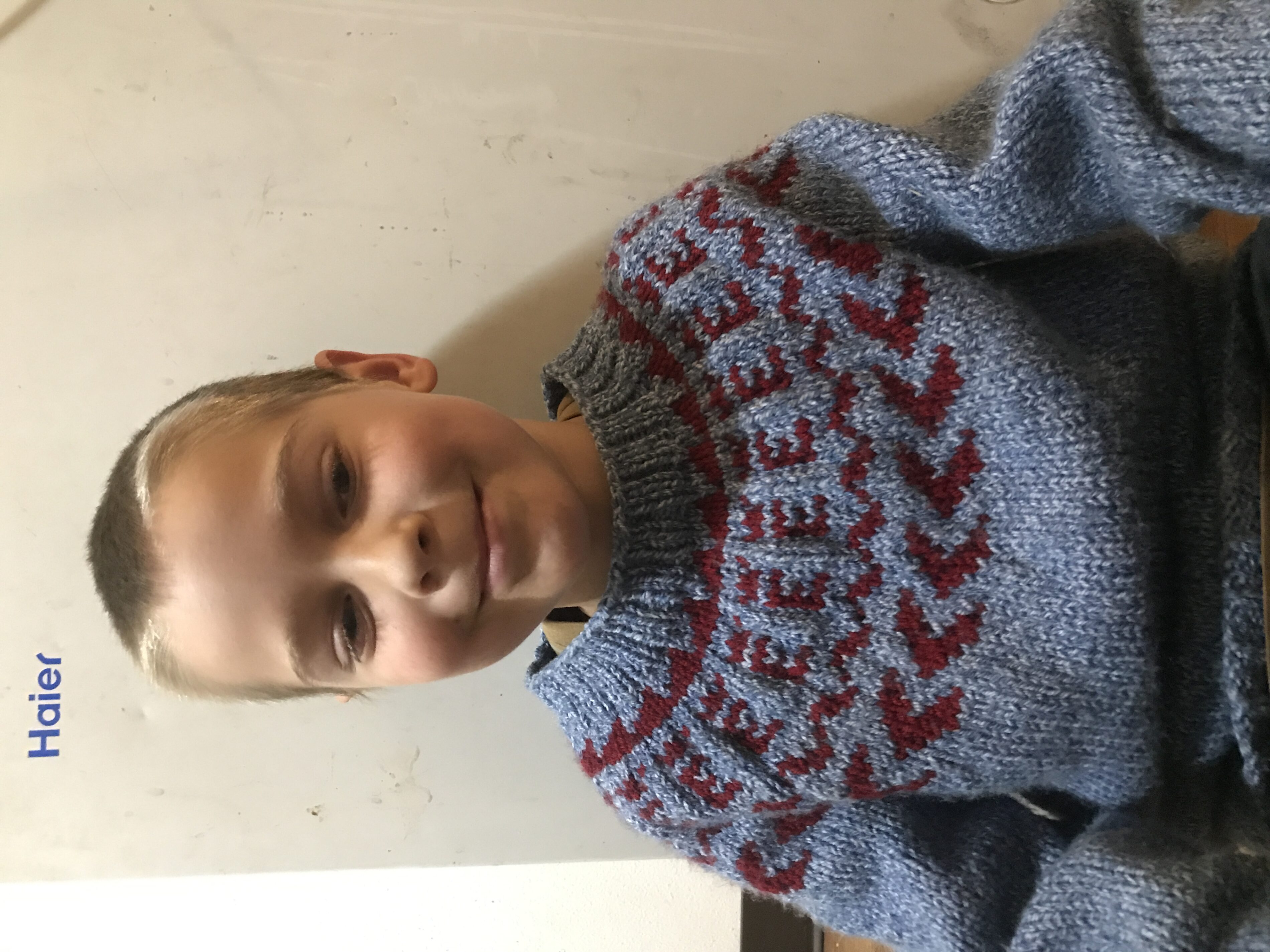 But that left Dragonfly (5) with 3 sweaters and Grasshopper (8) with just one. Now that I'm out of my blanket and toy rut, it was time to make him a new sweater for this coming year! I decided to let him design his own design, since that's the whole point of the Strange Brew recipe pattern. We looked at different motifs together, and he picked out the ones he liked best (that would fit into the number of rows for a sweater his size). I took him to Hobby Lobby to choose the yarn, too. I knew after making the Mickey Mouse sweater for Bumblebee that I didn't want to use Big Twist yarn for another sweater, and that meant shopping somewhere besides JoAnn. While we were at the store, we looked at quite a few different yarns. Grasshopper knew that he wanted his sweater to be blue with red designs. He was willing to compromise a bit on that so as not to have it turn out too garish, but not too much. We examined at least 3-4 different blues before we found one he liked. Then we looked at the reds. Then we found a better blue (I Love This Yarn! in the color Chambray), which led us to other reds. He landed on a nice dark, supple red (I Love This Yarn! in Red Tweed), which compliments the blue marbled yarn very nicely – it's not hard on the eyes at all.
And this one's made from acrylic yarn, so we won't have any shrinkage problems this time.
Blessings,