Here is the sweater I made for Grasshopper: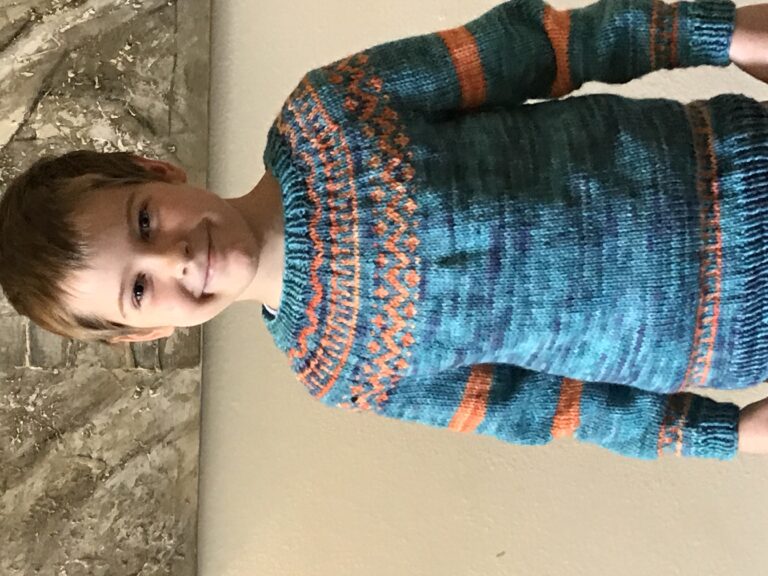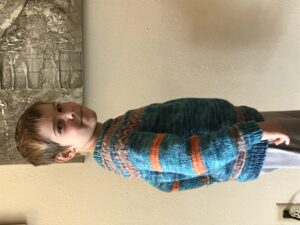 It's the same pattern as what I used for Dragonfly's sweater (there's one for Bumblebee that will be posted in a few days, too, and one for myself that I'm in the early stages of knitting). The pattern is really more of a "recipe," meaning that it tells you the basics and gives lots of freedom in the decorative portion at the top rather than a specific set of pictures to knit. I've really been enjoying making these "Strange Brew" sweaters.
Grasshopper's sweater was made with Knit Picks Wool of the Andes yarn that I dyed myself, just like Dragonfly's. He was adamant that he wanted a pullover, and he wanted it to be dark blue. I also incorporated some orange that I had left over from making a sweater for Bumblebee (not the same one I mentioned earlier, but one that I will talk about soon). Because dark blue and orange are Grasshopper's favorite colors, it was too perfect to not use both of those in one sweater for him. To dye the blue, I used 35 drops of McCormick's blue food coloring (the liquids from the baking aisle) per skein. When that had dried, we looked at the yarn and decided it wasn't dark enough, so I over-dyed it using Wilton's Sky Blue icing color mixed with a bit of Black icing color. The black, because it's made up of different dyes, splits beautifully, and that's what gave this yarn that gorgeous marbled effect.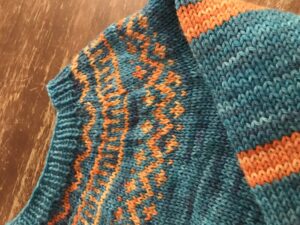 I knit this sweater from the bottom up, and I was anxious to see how the colors would play together, so I incorporated a design into the bottom of each sleeve and then used that same design on the bottom of the sweater, just above the hem. I was a bit concerned about having enough blue yarn, so I also added orange stripes to each sleeve.
When it was time to knit the yoke, I chose to incorporate the same pattern from the bottom as one of the motifs. Upon looking at it more closely I thought it looked like a maze, so I tried to find other motifs that fit that same feel. This was actually the first Strange Brew sweater I knit, and I was so in love with how it turned out that I immediately started Dragonfly's green sweater – and when that one was done, I started one for Bumblebee! And these three sweaters are some of my favorite that I've ever knitted.
Blessings,