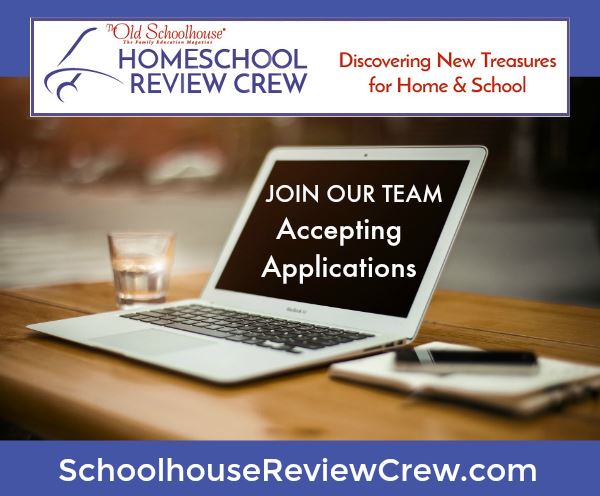 If you've read very much of my blog at all, you know that I'm a member of the Homeschool Review Crew. We're a group of bloggers that has the amazing opportunity to try out homeschool curriculum, read books about a huge variety of topics, and even get some beauty products from time to time. All for free! Well, in exchange for our time, that is. To write a fair and balanced review, it's necessary to put in the time to use the products, as well as spending time crafting a useful review that will be a help to the vendor (positive and negative are both helpful, and as a member of the Homeschool Review Crew, you're never required to write a positive review).
Besides writing reviews, the Crew is a huge blessing in other ways. We have an active private forum where you can express your thoughts about anything and everything, not just homeschool related stuff. Have a question about the tomatoes you're canning in the summer? Ask it! Looking for new recipes and don't have time to search for yourself? Someone on the Crew is likely to have just what you need. Are you going through a rough time and you just really need someone to pray for you? We do that, too. And on the flip side, are things going really well and you want to give glory to God? Members rejoice with one another. It's an amazing group to be a part of.
If you're interested in joining this fabulous group of moms (and even a dad!), now's the time. The Homeschool Review Crew is taking applications for the 2017 Crew year.
In order to apply, you need to:
Have a blog.
Currently be home educating at least one child. Your child/ren can be anywhere from Pre-K to 12th Grade.
Be active on social media of your own choosing (Facebook, Google+, Pinterest, Twitter, Instagram)
Love curriculum, homeschool products and books.
If you're selected to be a part of the team, you'd need to:
Maintain an active blog by posting a minimum of ONE non sponsored post a week on any family friendly topic of your own choosing.
Be committed to sharing each of your reviews on your social media platforms a minimum of twice. This can be twice on one platform or on any two platforms of your choosing in one week.
Use the review product you receive for a minimum of six weeks and write a review. We do not require you write a positive review and we do not tell you what to write. We do, however, have a few minimum requirements including a minimum word count.
Post your reviews to your blog and and link them up here on our blog during our due date window.
On a regular basis visit our private Review Management forum where 

we provide support, encouragement, and information necessary to complete each review.
Want more information? Ready to apply? Head over to the Homeschool Review Crew blog to find out more.
Blessings,