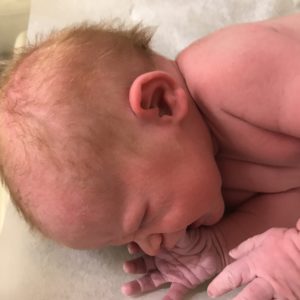 My csection went great. Much better than my dream the night before, in which everything was going wrong. The anesthesiologist was amazing! And my doc got a cyst removed from a sensitive area while I was already numb, so that's good.
We got bumped back by almost an hour because there was a 34 weeker delivering at my time. Vaginal, but the NICU team was needed for him/her and they like having them on hand for csections too, so we waited. I haven't heard yet how that baby is doing, so maybe keep the family in your prayers.
They had a designated picture taker for us, and he gots of good ones using my iPhone throughout the entire procedure. I got a few minutes of skin to skin in the OR, which was a first for me and I loved it.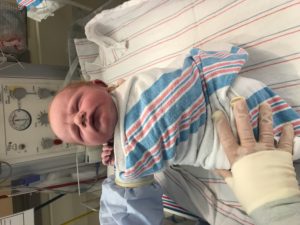 I spent 2 hrs in recovery eating ice chips, then got moved up to the mother/baby unit where we'll be for the rest of our stay. I was a bit dizzy from lack of sleep and quite itchy on my face from the anesthesia, but rest and IV meds took care of those. He's nursed successfully three times now, by just 13 hours old (as I write this at 2:15 a.m.).
Weight: 7lbs, 4 oz. He's the exact middle of my kids in this regard.
Length: 19.5 inches
Time: 1:20 pm
Apgar: 9, 9
Blessings,