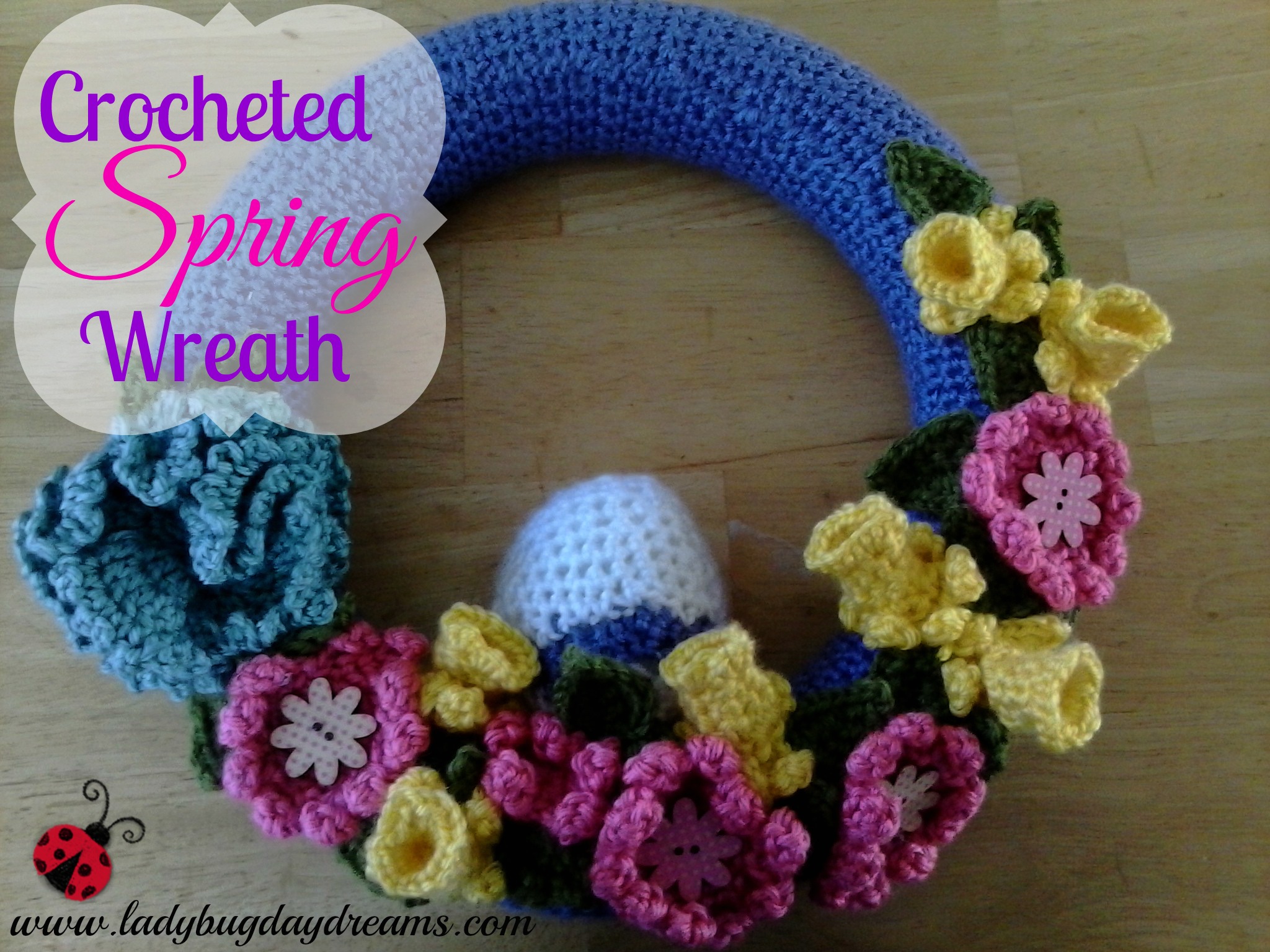 I was recently inspired and challenged by the lovely people over at Patience Brewster to create a "non-Christmas wreath." (For any who don't know, Patience is a designer and creator of handmade Christmas ornaments.) Because I'd recently seen something like this on one of the other blogs I read, it was already in my mind a bit, so I accepted the challenge.
Other than the idea, this post is not sponsored in any way. I purchased all of the materials with my own money and created my wreath in my spare time. I was not compensated for my time or costs at all.
The first thing I did (after I had my materials, of course) was to crochet the piece to cover the wreath base (which I got for about $5 from JoAnn's). I chose purple because it seemed like a nice springtime color that would make a lovely base for my wreath. To do this, I crocheted a "scarf" using all single crochet stitches that was 20 stitches wide and 150 rows long. This process alone took me a few days because it wasn't the only thing I had going on. When I'd finished crocheting this piece, I sewed it onto the wreath base. See this post from Repeat Crafter Me for a picture tutorial on how that works.
Then it was on to the fun stuff: creating the embellishments for my wreath. I went with daffodils (seven of them) because they're one of my favorite spring flowers. I'll share the pattern I used for them at the end of this post. (I can do that since I made it up myself!) Next, I made some cherry blossoms. I have a total of five of those in two different sizes, and I glued flower buttons in the centers of the big ones. I also made a carnation, which is my absolute favorite flower (although daffodils are right in there too). The carnation ended up pretty big, so I only used one of those. I made 20 leaves to tie all the flowers together and help create a more cohesive look to my wreath. For the "shining star," I made a chevron striped Easter egg. I wanted to include an Easter element in my wreath, but I couldn't think of a way to make a Christ-centered product for that space, so I went with the egg. I used white yarn for the main part of the egg and the same purple as the base for the stripe. (Obviously I could think of Christ-centered elements, but I didn't know how to make any of them.)
Finally, I used my hot glue gun to attach all the elements to the wreath. This was my first experience using hot glue, and I was very pleased with how easy that made it to attach the embellishments. Not to mention how well they stay on using this method. As a crafter, I should have been more experienced with a hot glue gun (I actually bought mine for this project), but I wasn't. I will definitely be using it for a lot of crafts from now on.
Before I go, here's the pattern for the daffodil I promised you.
Magic Ring. 6 Double Crochet in the ring. Join, chain 2. (does not count as DC)
Round 2: *DC twice in same stitch, DC once* around for a total of 9 stitches. Join, chain 1.
Round 3: SC around for a total of 9 stitches. Join, chain 1.
Round 4: *SC2tog, SC* around for a total of 6 stitches. Join, chain 1.
Round 5: 3 SC in each stitch for a total of 18 stitches.
Fasten off and weave in ends.
This is, of course, just the cup of the daffodil. You can stitch the cup onto any flower base you like. I used this cherry blossom, stitched in yellow. Additionally, you can use any size crochet hook for this pattern. A smaller hook will produce a smaller flower, and a larger hook will make a larger flower. The only rule is that you should use the same size hook as you did for your flower base. For the record, I used my size H (5.0 mm) hook for this entire project. It's my favorite, and I use it for almost all of my crochet.
Have you ever decorated with a wreath outside of Christmastime?
Blessings,