We were recently blessed to be able to review the ESV (English Standard Version) Family Devotional Bible thanks to Flyby Promotions. When the opportunity to review this Bible came up, I knew I wanted to give it a chance because the ESV is the Bible of choice in our family. I was very interested in combining our favorite translation with pictures and devotionals. I was not disappointed in my expectations!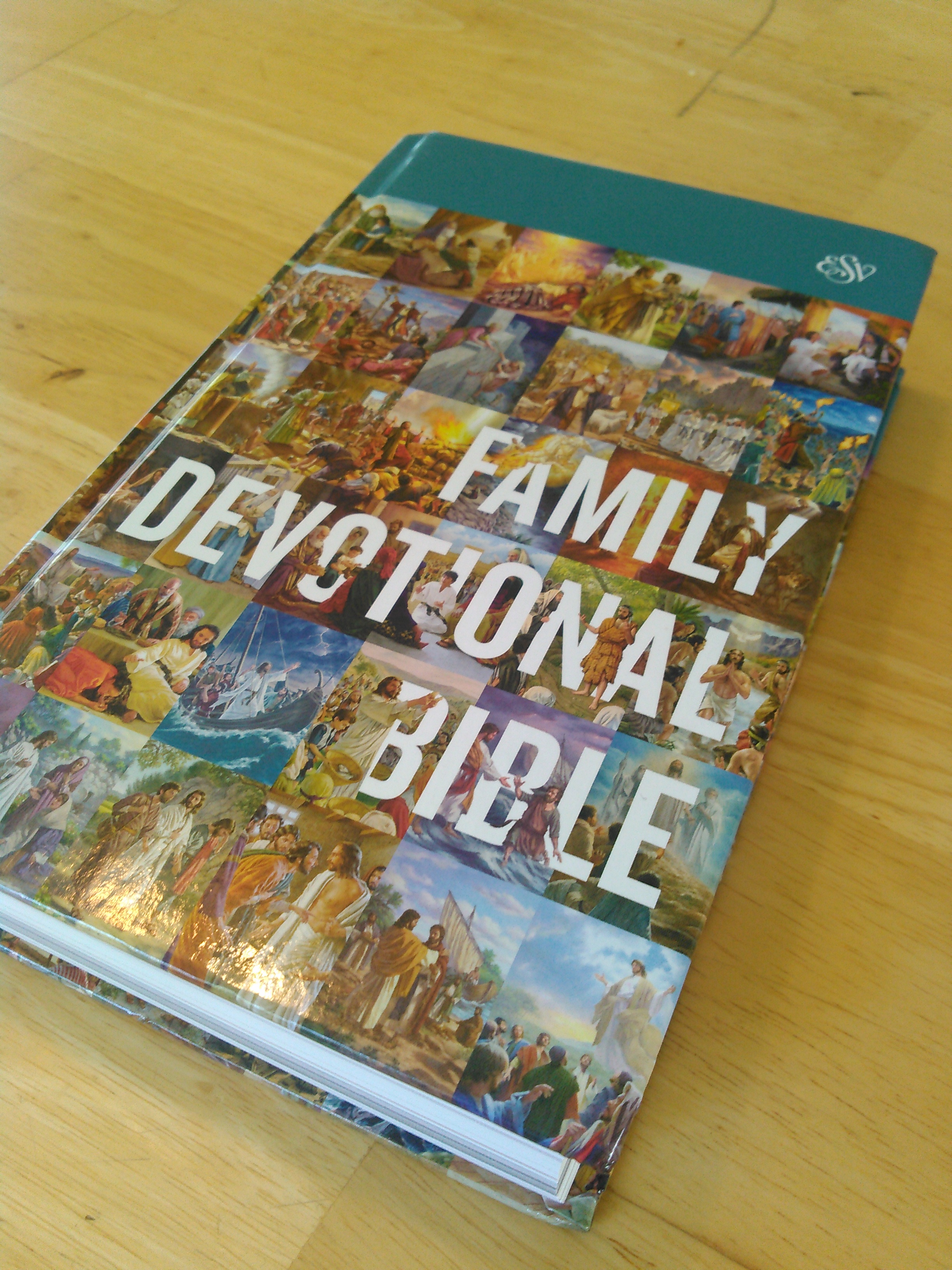 There are 130 devotions sprinkled throughout the text of the Bible, and each one gets an illustration. The devotions are located near where their stories occur, and the scripture reference for each devotion is made very clear so you can compare the devotion to the actual text easily. Devotions summarize the portion of scripture they're taken from, offer discussion questions, and then provide a key verse (which would make a great memorization tool). If you're looking for a specific story to study deeper, there's a convenient index of devotions at the back of the Bible. Additionally, there are maps in the back also, which really helps to bring some of the locations to life a bit better.
This hardcover Bible is a good size – not too big, making it cumbersome to hold, but also not so small that's it's ten feet thick to include the whole of the biblical text.
Over the past couple of weeks, this Bible has become an amazing tool in our home. It's nice to have family devotions and biblical text all in one volume. The cover is a bit busy for my taste (it has thumbnails of each devotion illustration all butt-up against one another), but that's not something that would make me not recommend this Bible. If you're looking for a way to include devotions more readily in your home (or homeschool), then this is well worth the investment. Crossway has done an amazing thing with this Bible!
In addition to providing me a copy of the ESV Family Devotional Bible to facilitate my review, Flyby Promotions is offering to give one away to one of my readers. This will be a huge blessing to whoever wins, let me tell you. All you have to do to have a chance to win is leave me a comment on this post related to what I've written about. The winner will be chosen randomly from all the entries on Friday, May 20th and notified via email. (Your email address is required for leaving a comment, so you don't have to worry about posting it publicly. Only I will see it, and I won't be adding you to any newsletter lists or anything.)
Blessings,

"Disclosure (in accordance with the FTC's 16 CFR, Part 255: "Guides Concerning the Use of Endorsements and Testimonials in Advertising"): Many thanks to Propeller Consulting, LLC for providing this prize for the giveaway. Choice of winners and opinions are 100% my own and NOT influenced by monetary compensation. I did receive a sample of the product in exchange for this review and post.
Only one entrant per mailing address, per giveaway. If you have won a prize from our sponsor Propeller / FlyBy Promotions in the last 30 days, you are not eligible to win. Or if you have won the same prize on another blog, you are not eligible to win it again. Winner is subject to eligibility verification."
This giveaway is now closed. As chosen by random.org, the winner is Heather Kelly. Heather, I've emailed you. When I hear back, I'll have the vendor send your Bible.