Disclosure: I received this complimentary product through the Homeschool Review Crew.
Whenever any other homeschool moms ask my opinion on grammar curriculum, I always give the same answer: Fix It! Grammar from Institute for Excellence in Writing. We've been using this program in our homeschool for years, and it's far and away my very favorite. The timing on receiving this review was pretty good for us, too, because Grasshopper (4th grade) was just finishing up level 1 of Fix It!, so we were primed and ready for the (new and improved) level 2.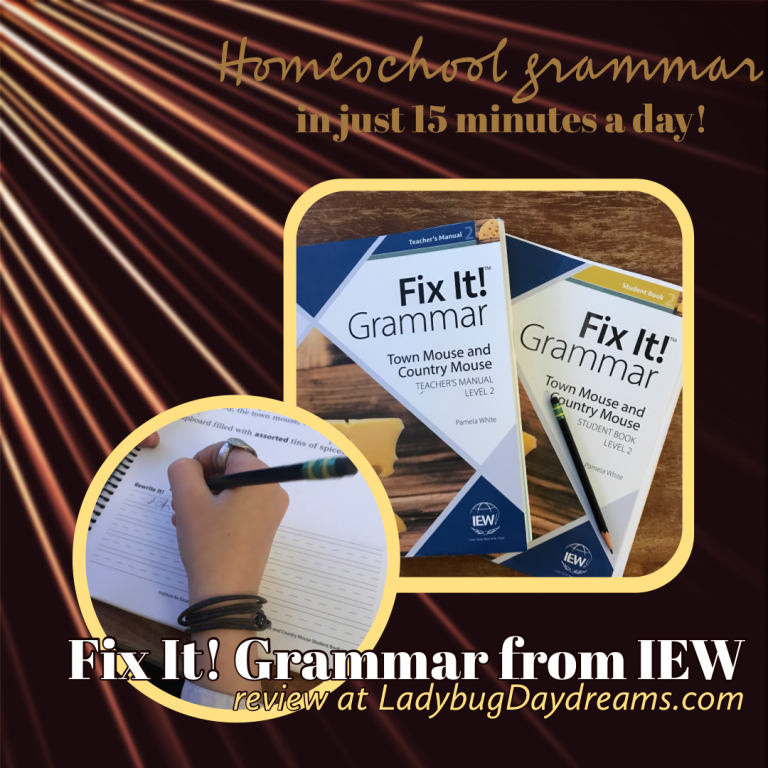 About Fix It! Grammar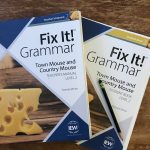 Fix It! Grammar gives your students one story to work on through the entire school year. They read one sentence (sometimes two, if they're short) per day, and that sentence is full of errors! Your student systematically corrects the errors found in the text, identifies and defines the vocabulary word, and then re-copies the sentence correctly. As they move through the book, they also learn to identify different parts of speech (nouns, verbs, etc). These are marked in the "incorrect" sentence, before the student does the copywork.
Why I Love Fix It! Grammar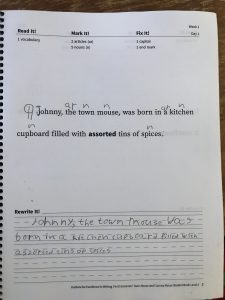 There are several reasons I love to use this program with my kids. First of all, it's quick. The lessons get slightly more time consuming as you move through the books, but we have never spent more than 10-15 minutes on a single lesson.
Second, it's easy to teach. There's a teacher's manual as well as a student book available, but if you're decent at grammar you could probably get by with just the student book. The basics for teaching are found in both volumes, so as long as you have enough knowledge to be able to explain the concepts to your child, the student book will suffice. If you're unsure of yourself, definitely get the teacher book too.
Third, because of the nature of the program, where students work through a single story and make similar corrections throughout the entire school year, the knowledge sticks. My teenagers used Fix It! Grammar when they were young, and both are competent writers now. We are now using the program with my 9-year-old, and he is fully understanding everything he learns too.
Finally, IEW has a very generous copyright policy. If you are using the program with more than one child, you can photocopy the pages under their copyright policy. However, if you are using it in a co-op setting, each family will need at least one copy of the student book to use. This means that you can also have photocopies made and save the student book for future children as well, which is what I will be doing this time around.
How Fix It! Grammar has changed over the years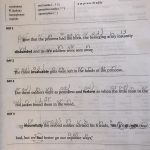 When we first started using the program many years ago, the student book was divided up into "weeks." Each page had four sentences, labeled "Day 1," "Day 2," and so on. Your student would make the corrections for the day, and then copy the sentences into a separate notebook (see picture at left, which is an old copy of The Nose Tree that Grasshopper has been working through this school year). The image above is the new version of Fix It!, which has each "day" on its own page. The corrections to be made are identical, but they've added some lines at the bottom of the page for the copy work. Additionally, instead of just showing the different types of words that need to be identified at the top, they've shown you exactly how many of each word there are. That is so helpful! I think it's my favorite new feature.
Final Thoughts
I think it's pretty clear that I love IEW's Fix It! Grammar program. It will always be my go-to curriculum for teaching my children the ins and outs of writing in English. But don't just take my word for it. Head over to the Homeschool Review Crew and read more reviews from other homeschool parents.
Blessings,