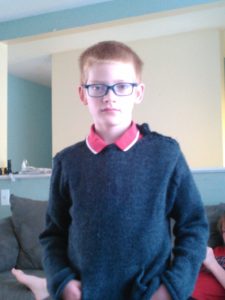 As we enter the cooler months, I'm beginning to think about creating Christmas gifts. Last time I did a knitting projects update, I hadn't quite started the sweater I was making for my dad, and I was still working on one for Munchkin. Well, I've since finished both of those projects – and done a few others to boot. Here's what I'm currently working on and what I have planned but not started/purchased for yet. But first, a picture of the completed sweaters.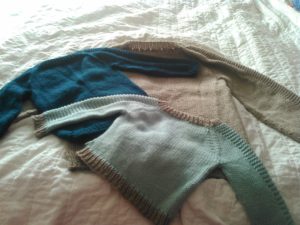 The large brown one is the one I made for my dad, the dark blue one is for my 4-year-old nephew, and the light blue one with brown edges is for Dragonfly.
Now, on to upcoming projects. Currently on my needles is a sweater for my 6-year-old nephew. I followed the same basic pattern, but after making three of these sweaters already, I was ready to make it a bit more interesting for myself so I bought two different shades of green yarn and found a basic fair isle pattern. I used this one from Very Pink Knits (she has my absolute favorite knitting tutorials!), which was actually designed as a cowl (a short, circular scarf). I wasn't making a cowl, though; I was making a sweater. Luckily, the pattern repeat matched up with the number of stitches in the sweater size I was making, so it worked out beautifully. This sweater is done except for sleeves, which go pretty quickly.
Small Fry has a special relationship with my dad, so he wanted a sweater to match "Papa." But again, I want things to be a bit interesting for me as the knitter – especially since I'm still knitting the same pattern. So I found a yarn that has a similar brown color, but it's variegated with white. I'm excited to see how it turns out; I think it's going to be really pretty handsome.
When I need a break from sweater knitting, I've been making square cloths out of cotton yarn. At home, we've been using them for washcloths (for baby faces and wiping down tables and counters, mostly). They also make wonderful cloth napkins, which I love. They'll last a lot longer than flannel squares and be a lot more cherished as well. So far, I've made 5 or 6 of them. My goal is to get up to about 12.
I mentioned in last week's Random 5 post that I didn't think I'd be able to get more sweaters made for our nieces and the remaining nephew, but I think I want to try. Kid sweaters go so quickly that it should be doable. I definitely won't have time to do those and more adult sweaters, though, so I'm going to keep my focus on the kid sweaters. (Adult sweaters take me about 4-6 weeks; a kid sweater can be done in as little as a week or two.) I like the idea of gifting handmade items, though, so perhaps I'll continue adding cloths to my arsenal and give each person a stack of those along with a "regular" gift.
I think all of these projects should keep me plenty busy for the foreseeable future!
Blessings,