Because it's been a few weeks since I posted here, here's a "photo dump" of some of the things we've been up to lately. Some of them will justify a post of their own, so look for those in the next couple of weeks.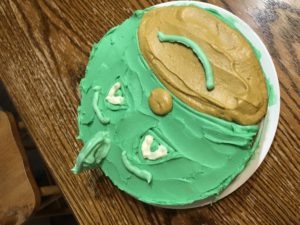 Dragonfly turned 3 back in November, and he really loves PJ Masks (a show on Netflix for those who are unfamiliar). We had a small party for him, and I made 2 cakes inspired by the characters. This is "Gekko." The other one was "Catboy."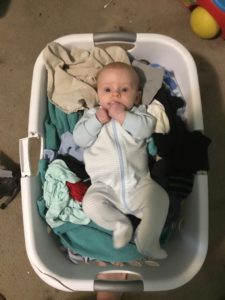 When you have a baby to care for and laundry to fold, sometimes this is the easiest way to transport both together 🙂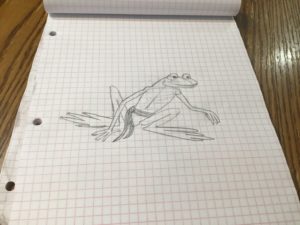 Karate Frogs is a new feature in Will's Casey and Kyle magazine. Seahawk (now 15) is the illustrator for the stories.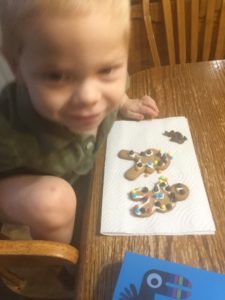 We made "ninja bread" cookies at Christmas time.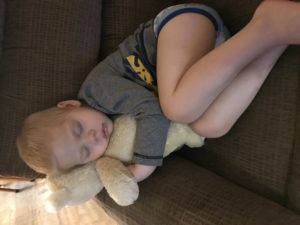 I let Dragonfly watch a movie one day while I was at the house with just him and Bumblebee (the others were at dance class). I needed to care for the baby, so a bit of tv was necessary. I came back a few minutes later to find him like this.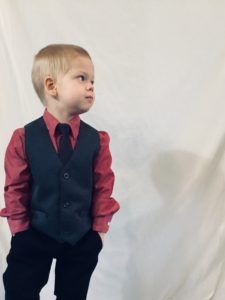 We got each of the boys one "big" gift for Christmas this (well, technically last) year. For Dragonfly, it was this suit because he'd long outgrown his previous one. This picture was taken by Seahawk.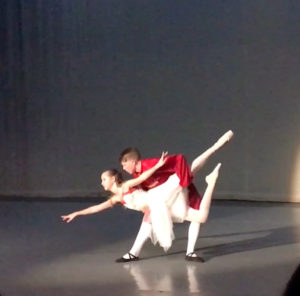 Seahawk danced the title role in the boys' dance studio's production of The Nutcracker. Munchkin got the role of the toy soldier, which had been Seahawk's the past two years. Small Fry was finally able to start classes (girls start practically from birth, but boys have to be 6), and he was so cute as a part of the Russian dance with his Boys' Movement peers (including both big brothers).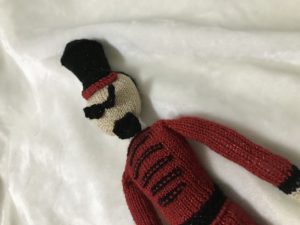 I made this knitted Nutcracker doll for Seahawk as a commeraration of his lead role.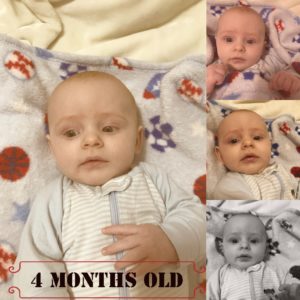 Bumblebee turned 4 months old on December 29th.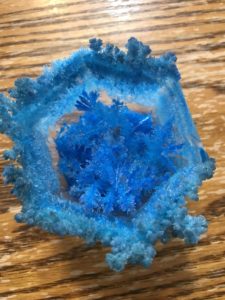 Seahawk got a crystal growing kit for Christmas from one of his aunts and this was his first attempt.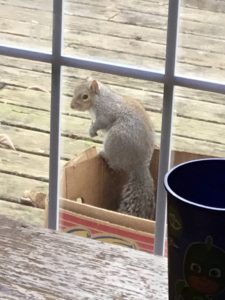 We got some apples from church the week before Thanksgiving, and they were terrible. Absolutely no flavor. So we didn't eat very many of them, but ended up leaving the box on the back deck. Several weeks later, we noticed that many of the apples were missing (the box was nowhere near as full as it had been) and most of those left had been eaten. A few days later, we learned why!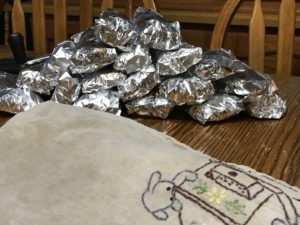 We, especially Will, have been reading the Bible with a much more literal interpretation, and ignoring our own cultural points of view on it. That, plus finding a good Greek interlinear version online, led us to discover and believe that contrary to popular belief, the Old Testament laws regarding things like the Sabbath and clean/unclean foods are still very much in effect. We have since given up all unclean foods (in our diet, this was primarily pork and non-fish seafood). The boys and I also work hard on Fridays to prepare the food we need for Sabbath (sunset Friday until sunset Saturday). On the week I took this picture, I made burritos on homemade flour tortillas for Saturday lunch.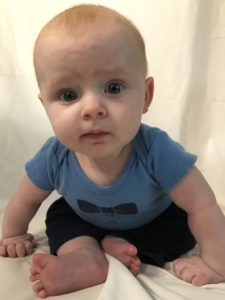 Last but not least, Bumblebee turned 5 months old earlier this week.
Blessings,