One of Will's favorite past times is going to a restaurant and trying something completely new. He'll do this in "old favorite" restaurants as well as new ones we've never visited before. Recently, we went to a Cajun grill, and he ordered the Crawfish Etouffe (ay-too-fay). He described it as a "spicy tomato soup with rice and seafood." I'm not a huge seafood fan (I like many kinds of fish, but not seafood in general), so I didn't try any. But he found himself going back again and again for this dish because it was so good. He even took the older boys once, and when they got back they raved about it too. So one night when we were at the store with no idea of what to fix for dinner, he decided to look up an etouffe recipe. It was fairly simple with easy ingredients (except the crayfish), so we decided to give it a go, with one exception: we got a kielbasa for the protein instead. It was really delicious, and I'm so glad we tried it! Today I want to share our version of the recipe.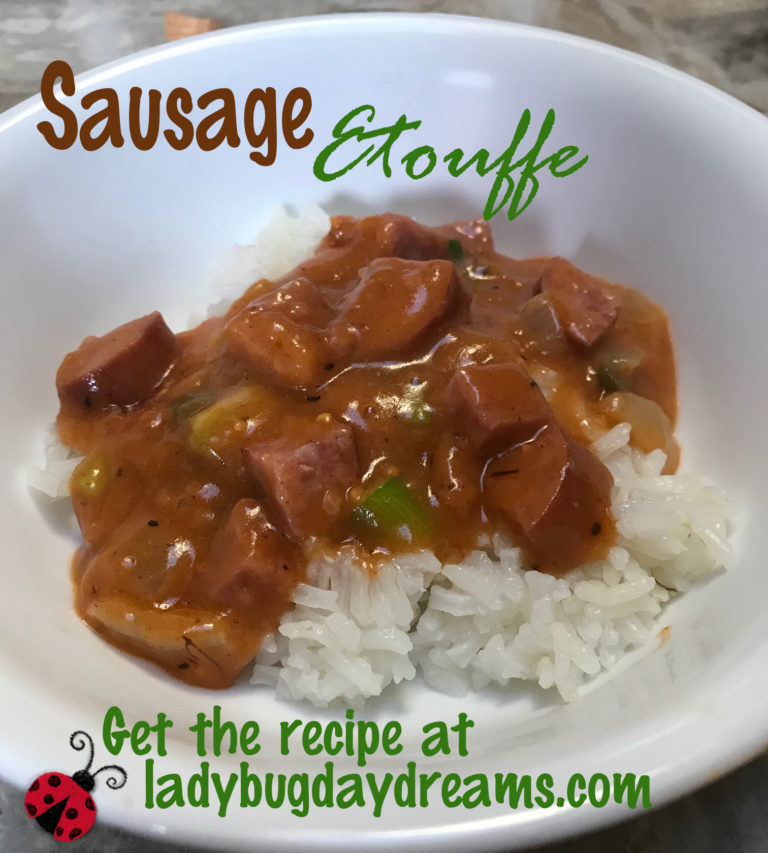 Sausage Etouffe
Serves 6-8
6 cups water
3 cups long grain rice
1 kielbasa, cut into small pieces
1 stick butter
1 onion, chopped
1/4 cup flour
1 8-oz can tomato sauce
2-3 cups water, or as needed
3-6 green onions, chopped
2 tbsp Cajun seasoning, more or less to taste
Salt and pepper to taste
Cook the rice in the water according to package directions.
While the rice cooks, melt the butter in a large saucepan. Cook the kielbasa and onions until the onions are soft. Add the flour to make a roux. Stir in the tomato sauce and water and cook to make a gravy/soup-like consistency. Add the green onions and seasonings; stir well to combine. Serve in bowls over the rice.
Blessings,