As a member of the Schoolhouse Review Crew, one of the biggest blessings I receive is a free Yearly Membership to SchoolhouseTeachers.com. Crew reviewers are invited to continue their membership for free as long as they remain on the Crew, and I've opted to keep mine up each year (I'm beginning my third year as a member). I don't always remember to utilize this amazing resource, but I've spent the past couple of weeks re-exploring it, and I was reminded of just how awesome it is. We've already started using some of these lessons (this is our first week back after baby and Christmas), and I definitely see us using more of them in the near future.

The two classes that we've just begun are Keyboarding by David Kimball and Dinosaurs and the Bible by Patrick Nurre.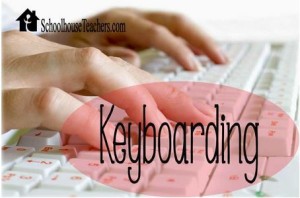 Keyboarding is a 10-lesson typing course for students of all ages. Each lesson can last as long as needed for mastery, from one day to a week or more. I didn't learn how to type until I was in 9th grade, but times have changed since then, and it's really not all that realistic for younger student not to learn how to type. So many things rely on the computer these days that it doesn't make sense to keep them away from this generation of children, even for parents (like myself) who would prefer to have our students work more with "real" things like books and paper.
Each typing lesson focuses on a small portion of the keyboard, starting with the home row. It uses a combination of video (explanations that require visual), audio (oral-only explanations, instructions, and music to type to), and written (a printable student packet with letter combinations and words to type). It might be tempting to skip the printing of the student packet, but don't do this. This keyboarding class's goal is to teach students to type accurately without looking at the keys or the screen.
Dinosaurs and the Bible will be our science course for the next several weeks. We dove into it this week, and it's not so different from the science course we were using before in method – a video paired with worksheets. This may not be everyone's favorite way of teaching science, but for us at this stage in our family it works very well. Like with most things involving worksheets, I've been hand copying them off of the website for the boys.
The Dinosaurs and the Bible course is currently active, which means not all of the lessons are available yet, but more are added each week and will continue to be until the entire course is complete. Once that happens, the archives will remain available on the site indefinitely. That's one of the things I love about SchoolhouseTeachers.com – that they leave every course up once it's there. This means that you can use the material any time, not just when it's new and active.
SchoolhouseTeachers.com is an amazing resource for homeschooling families. The two classes I talked about are just the tip of the proverbial iceberg. This website could easily provide the core curriculum for your students. There are classes in nearly every subject for all grade levels, from preschoolers to high school. There are also printable planners and other resources for parents, and the membership includes free access to Right Now Media, a faith-based video streaming company.
The fee ($12.95 per month or $139 for a full year) is per family, not per student, so it's quite affordable. To make it an even better value, I have a special deal for you today. Sign up for a Yearly Membership during the month of January and get 50% off using the coupon code CREWFOLLOWER. I don't think you'll regret it.
Blessings,