Disclaimer: I received a FREE copy of this product through the HOMESCHOOL REVIEW CREW in exchange for my honest review. I was not required to write a positive review, nor was I compensated in any other way.
If you're interested in having your kids learn some basic computer coding, the Coding for Kids Annual Membership from Simply Coding might be for you. Designed for kids 11-18, the course includes interactive content, videos, chat help from the staff, and projects. Mentors are available for chat help from 9am-6pm central time M-F, and they offer email support on the evenings and weekends.
Through the course, which costs $149 per year for one student or $229 for a family account for up to 3 students (there's a 10-day free trial if you're unsure it's something your kids will be interested in), youth learn to code their own video games, websites, and apps. The course includes roughly 300 hours of content. While appropriate for beginners (so long as they know how to type – though not required, it does make it easier), Simply Coding goes above and beyond other entry-level coding curricula out there.
Simply Coding aims to give kids real-life coding experience in their younger years. A lot of kids want to (or think they want to) work in IT and coding as adults, but few of them know what that really means in regards to the dedication and training necessary. Simply Coding gives them a taste of the dedication required for a fraction of the price of a college course – or worse, an entire degree that they then don't want to use. And with Simply Coding, the student has something to actually show for their work at the end – something that, if they were right and they do want to go into IT as a career – just might give them a resume piece for college applications.
The entire course is actually made up of 9 courses, totaling nearly 3 high school credits. You can see the breakdown in the graphic below: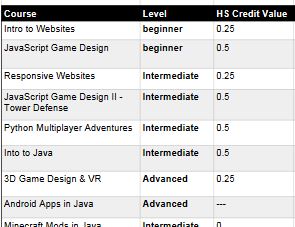 There is lots more information on Simply Coding on the Homeschool Review Crew Blog today, including other reviews linked up there. I highly encourage you to check that out!
Blessings,