Disclaimer: I received a FREE copy if this product through the HOMESCHOOL REVIEW CREW in exchange for my honest review. I was not required to write a positive review, nor was I compensated in any other way.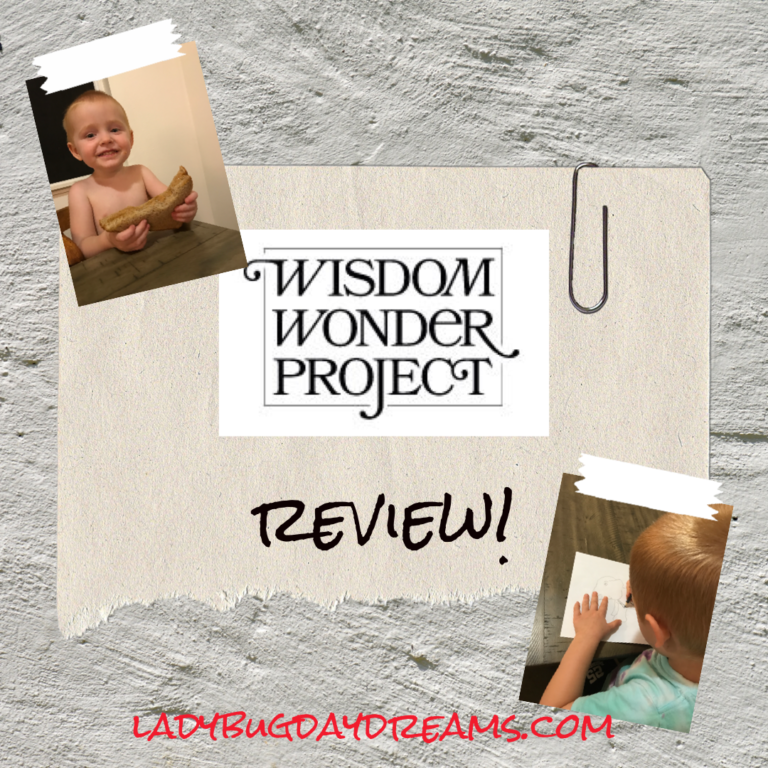 Wisdom Wonder Project is a subscription based, classical education curriculum for kids preschool through 2nd grade. What started as a group of parents who couldn't find a classical school near them and therefore started their own has become a full curriculum for younger students available for purchase worldwide. For the month of September, Dragonfly and I have been using their Little Wonders Preschool set. This is for kids in preschool or kindergarten.
How It Works
Wisdom Wonder Project is, as I mentioned, a subscription product. You can choose a monthly subscription or an annual one. Each month, you go in and download the curriculum to your computer; there's no need to log in every day. Little Wonders is a three-piece set: literature, Little Masters (art), and block play.
Kindergarten literature is just what it sounds like… Each month, your kit includes everything you need for your child's first literature lessons. There are four books highlighted each month, which gives you a full week to spend with each one. With each book, you read the book each day and then do activities based on the book. For example, with Harold and the Purple Crayon, there are loads of activities involving purple things (making purple play-doh that is lavender scented, buying purple fruits and veggies from the store and eating them, etc).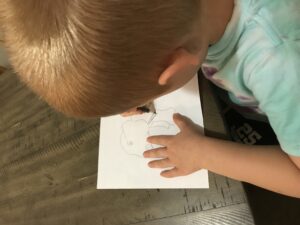 I had a hard time getting hold of most of the books for this month of study (almost none of them were available in my library system), but I was able to find A Sick Day for Amos McGee, and we read that a few times. Dragonfly really had a lot of fun with the sandpaper coloring activity in that unit. Because I had an ebook version of the story instead of a hardcopy, I had Scorpion (14) draw an elephant for Dragonfly to color. (The curriculum instructed you to photocopy one of the pages for this activity.) We had some sandpaper on hand, so we popped that underneath the drawing and let him color away. This gave his elephant a "real feel" texture, which he loved.
Little Masters is the art curriculum, and it's titled such because each month focuses on a "master." September is Alexander Calder. The packet includes a brief biography, and it's there that I read that he is credited as the creator of the mobile. For this reason, the main focus of the month is learning about shapes. One of the activities in this vein was to let your child help make a sandwich of his choice – Dragonfly chose peanut butter – and then cut it into the shape of his choice. We first talked about the shape of the bread (rectangle), and then he chose to have it cut into triangles, and he shared one of them with his baby brother.
The third component is Block Play. This includes another book, and after reading it, you use physical things (beyond paper and pencils) to create aspects of the book. For example, you're instructed to help your child build a skyscraper, or create a road. Basically, it gives your child a chance to wiggle a bit and explore with their hands while still learning.
I loved the idea of the Wisdom Wonder Project, but I wish they used more mainstream books that were easily found at the library. That made it difficult to really get into the curriculum as well as I wish we could have. That said, I will continue to download the kits each month (I received a yearlong subscription), and we will use the ones that are readily available to us.
Wisdom Wonder Project also has curriculum for kids in 1st and 2nd grade, as well as a video math program using Singapore Math. Click through to read more about that on the Homeschool Review Crew blog.
Blessings,