Disclosure: I received this complimentary product through Momentum Influencers.
My husband and I used to really like watching CSI: Crime Scene Investigation (and the NY spinoff, but we could never get into the Miami one for some reason). I also sometimes like to watch old episodes of Forensic Files. So when I had the opportunity to sign up to review a new show called Vindication, which is a similar feel to those crime shows of the past, I was interested.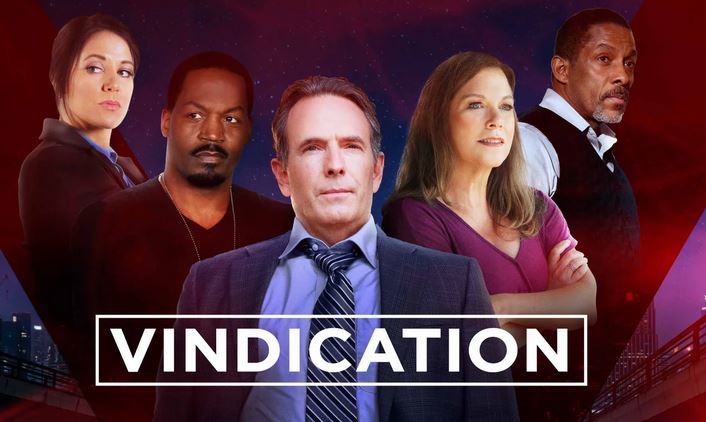 Vindication airs on the Pure Flix streaming network, which is a lot like the others in its field with the exception that the shows and movies on the platform are faith based. Vindication is no different. The show follows Detective Gary Travis and his team of police investigators, as well as his personal family. He works for the police department in a small town in Texas solving a crime in each 30-minute episode. The first episode is a stand-alone, but as you move through the season, you get a bigger story arc. Each episode also has its own arc, just like a "normal" show.
I watched the entire first season in just a few days; it was well done and I enjoyed the stories. I liked how the episodes were a bit shorter than others of this genre. It made it easier to find time to watch an entire episode while I crocheted or cooked dinner. The first episode, like almost every pilot episode of every show ever made, was a bit disjointed, especially when taken with the rest of the season. After watching it, I was convinced that each episode would be a standalone and there wouldn't be a recurring cast of characters, but I was glad to find that not to be the case. It made the rest of the show more entertaining having that character development to push it forward.
In each episode, someone related to the case has a faith encounter, usually the suspect of the crime. I enjoyed seeing how they incorporated those encounters into each episode; it didn't feel forced at all (most of the time). It was really nice to see how these bad people could really, truly change after meeting Jesus – just as it should be for all of us. This is quite a change from a traditional crime show!
My favorite episode of season 1 was Reverse Traffick (I'm not sure why the misspelling). This episode was one where there wasn't a"gotcha" faith encounter at the end, but rather it was the story of a Christian couple whose crime was a monumental misunderstanding. The main suspect of the episode was arrested for meeting up with an underage girl for "sex" after an online encounter. He kept insisting on his innocence, and when he told his story it was amazing. He wasn't trying to pick up the girl for sex – he was saving her from her life as a prostitute. Through a flashback, we discover how he did this: by "buying" the girls back from their pimps, and then setting them up with the things they need (an apartment, some cash) to start their lives fresh. The police, understandably, don't believe him, so it's up to his wife to convince just one of their beneficiaries to explain to the police the truth. It was harder for her to find someone willing to tell the truth for them than you'd think, but in the end she's able to bring a whole hallway full of young girls and women to the rescue of her husband.
As I mentioned, I really enjoyed watching Vindication, and I highly recommend it if you like the more mainstream cop shows like I do. I don't think you'll regret it.
Vindication has been renewed for season 2, which is currently airing on Pure Flix (it started on Sept. 1 and is airing one episode each week through Oct. 27). I will be reviewing a specific episode of that season in the next few weeks, so make sure to look out for that soon. Read more about the second season in Pure Flix's press release.
Do you like cop shows?
Blessings,