Most of the big box craft stores have their own line of yarn. A lot of people compare these yarns to Red Heart Super Saver, because that's the "original" budget yarn. And it has a bit of an unfortunate reputation (for good reason, in my opinion). The other stores' yarns are a lot newer, and a lot has been learned in the production of acrylic yarn over the decades. At JoAnn, it's Big Twist, and at Michael's it's Loops and Threads. At Hobby Lobby (the other nationwide craft store that most people have likely heard of), it's called I Love This Yarn!, and that's the brand I want to focus on today.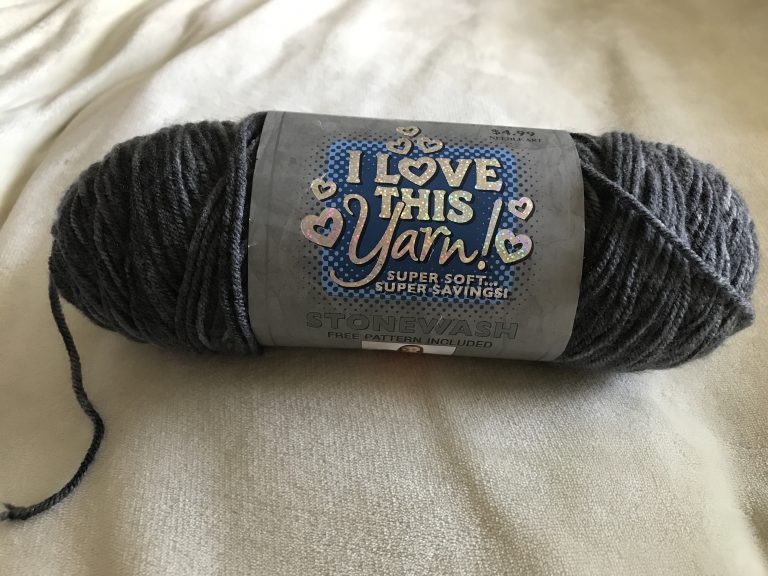 I've only made two projects using the Hobby Lobby brand (a sweater for Grasshopper and a sweater for Ballet Boy). I really liked the yarn when I was working with it while making Grasshopper's sweater. It's a reasonably soft yarn, and I bet it would crochet up really nicely (I've only every knit with it). As I mentioned in the post I wrote about Ballet Boy's sweater, even though the yarn is really pretty, it's rather heavy when you knit it up. I can't really understand why, because it's a pretty standard feeling worsted weight yarn before it's knit. And I'm not even sure that calling it "heavy" will make sense to an average crafter. But for me, there's really no other way to describe it.
Despite that heaviness (denseness, maybe?), the printed yarn I've worked with in this brand really is very pretty. I really like the marbled effect that it gives to a project, especially something with so many inches of plain stitches. Obviously you wouldn't get this with a solid colored yarn, but what you lose in marbling you gain in extra yardage. I personally find it worth losing a few yards for the more beautiful finished project, in the case of something like a plain sweater. If I were making a crocheted blanket or a sweater with cables, I would opt for a plain color over the print, though (but also – a different yarn altogether, at least for the cabled sweater).
So let's talk about that last statement: that I would choose a different yarn for a fancy, cabled sweater. That heaviness I described (or didn't, really) makes me not want to knit another sweater in this yarn. I sort of felt it with Grasshopper's sweater, but he was so heavily involved in the process, and loved it so much even before it was completed, that I didn't really process it mentally that well. But now that I've made a second sweater in the yarn, I'm realizing that "I Love This Yarn!" is not actually that much better than any of the other discount yarns. The Mickey Mouse sweater I made for Bumblebee a few months ago was made using Big Twist from JoAnn, and I didn't really like the way that one turned out either. What I'm finally learning through all of this knitting (what I've known all along but am finally willing to admit, rather) is that sweaters really need a higher quality yarn. While the budget yarns are good for a lot of things – and invaluable if you have a wool allergy or very tight finances – I don't think I'll ever make a sweater with one again.
That said, if you're looking for a budget yarn that is great for sweaters, I recommend Lion Brand Jeans. I've made many (4, I think) sweaters using that yarn, and been thrilled with every single one. It's just a little bit more expensive than a true "budget yarn," and so much better quality.
Blessings,