The idea of doing our homeschooling in a "notebooking way" really appeals to me, but I've never really known how to implement the method. When the Schoolhouse Review Crew members were offered the chance to review a Lifetime Membership from NotebookingPages.com, I knew right away that I wanted to a part of it. I've explored the free side of the website before, but never really used it all that much. Doing a review was the perfect opportunity to explore the site fully and figure out exactly what notebooking would look like in our homeschool.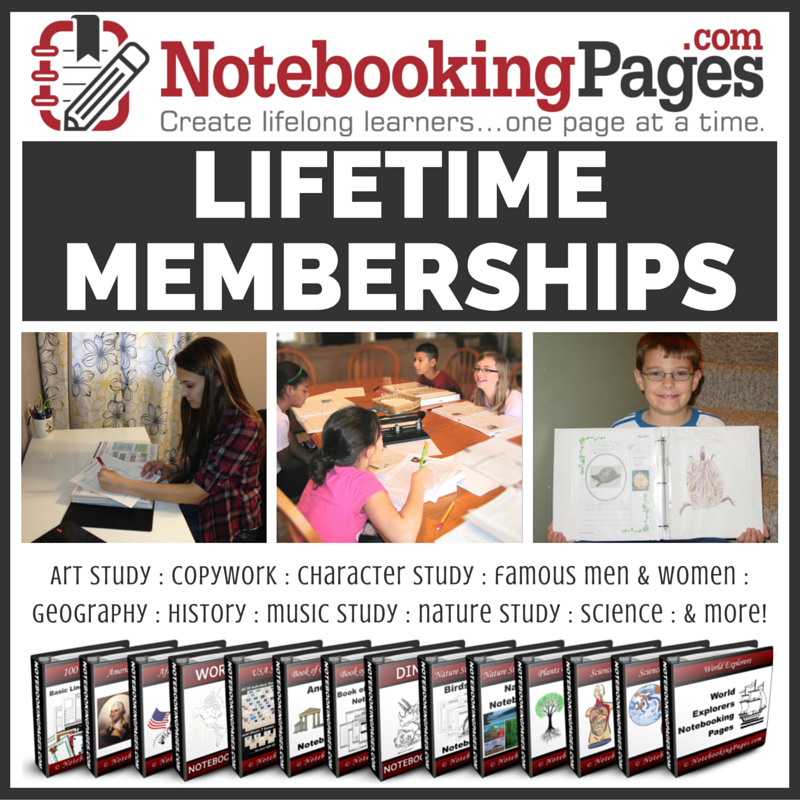 We received access in the middle of May, so the first thing I did was look at the resources for holidays – specifically Memorial Day. Using some of the pages found on NotebookingPages.com alongside other resources I found online, I put together a Memorial Day unit study for the boys. Besides Memorial Day, NotebookingPages.com has printable pages for just a wide variety of (American) holidays from Martin Luther King Day in January to Christmas in December.
When we'd finished studying Memorial Day, I needed a new topic for us to study. We've been on a big classical music kick recently, so I decided to see what was available for composer studies. I was not disappointed with the selection – there are 28 composers to choose from! I looked through our record collection and the NotebookingPages.com options, put some books on hold through the library online catalog, and was able to put together a study on several of our favorite composers. We learned about Mozart, Bach, Beethoven, and Sousa. Our very favorite composer (Rossini) doesn't have any NotebookingPages, though. But no problem – my NotebookingPages.com Lifetime Membership came with a one-year subscription to their web-app, which allows you to create your own worksheets either from scratch or based on any of theirs. (The web-app doesn't always come with the Lifetime Membership; if this is a feature you're interested in, double check before buying.) Using the publisher web-app, I was able to adjust the other composer notebooking pages to swap in Rossini's name and picture, and we had exactly what we needed.
During this review period, I've also been reading Courage and Defiance (my June book club book) to the boys. It's all about the Danish resistance during WWII, so I once again headed to NotebookingPages.com. They have a series of WWII pages in the "modern history" section, so I printed those out and had the boys summarize each chapter of the book in their own words.
In our six weeks of use, I've barely begun to scratch the surface of what NotebookingPages.com has to offer. Allow me to touch briefly on the different categories.
There's a huge variety of categories under the "famous people" umbrella, not just composers. This includes artists, American presidents and first ladies, missionaries, church history figures, scientists, and explorers.
There are pages for 54 Biblical studies (mostly individual characters, but Jesus gets two, the rest of the New Testament is all on one, and some other are buddied up), as well as "Quiet Time Journaling pages." I am looking forward to having the boys do some of these; in fact, I'll probably print some out as soon as I finish writing this review!
The Geography tab includes pages for when you study the US or do a countries of the world study. There are also maps you can print.
Under history, you can choose pages that cover ancient times, middle ages, Renaissance and Reformation, and modern times. There are loads of different categories under each broad category, and multiple pages under each of these.
There is a wide variety of copywork pages under the Language Arts category, as well as plain lined papers for things like spelling lists.
Science and Nature covers things like animals, astronomy, anatomy, plants and trees, and experiment recording pages.
A-Z pages for the youngest learners to practice their alphabet in preparation for reading and writing. We did just one of these with Small Fry – the first letter of his name. I'm really excited to do a whole alphabet notebook with him this fall. He'll be a bit young for formal Kindergarten (he turns 4 in two weeks), but definitely old enough for preschool-type work.
Even this huge list feels like it doesn't even come close to doing NotebookingPages.com the justice it deserves. There are thousands and thousands of different options for notebooking, copywork, and blank pages to choose from. You really have to explore the site yourself for the "full effect." If you sign up for a free account, there are several notebooking pages you can access for no charge.
Now I need to discuss what these pages look like, because it may not be what you're expecting as you imagine what "notebooking pages" look like.
They're not worksheets. This is not a curriculum.
These pages are essentially decorative journal pages for your child to record what he's learned. If you're looking for something other than "blank" pages, then NotebookingPages.com isn't it. This doesn't mean that it's not an amazing resource for homeschooling, though. It's important for children to record their own thoughts on things rather than just regurgitate answers based on worksheets, especially as they get older. For this use, NotebookingPages.com is exactly the right answer.
Each subject has a variety of different pages to choose from. Some have room for a lot of writing, some have room for some writing and a large drawing area, and some have room for a fair amount of writing and smaller drawing areas. Also, each style of page comes in "big kid" or "little kid" styles – plain lines or training lines with the dashes for learning letter placement. There really, truly is something for every family who wants to notebook on this site.
In addition to the actual pages you can print, there are video tutorials on what notebooking is and how to implement it in your homeschool. There are ideas for how to bind your child's notebooks. (During the review period, I just purchased inexpensive folders with metal clasps. When school supplies go on super sales next month, I'll stock up on other better options.)
I have just one issue with the program, and it's fairly minor considering all the good things. I wish the PDFs would open in my web browser for me to review before I downloaded. Currently, they automatically download when you click on them. If I decide it's not quite what I wanted, I have to delete it from my computer. This isn't a deal breaker, but having it open in the web instead would be a huge plus.
The NotebookingPages.com Lifetime Membership currently sells for $97. Included in this is access to every single page on their website for life. There's no limit to how many you can print, so it's great for all of your children, even if you have large age gaps where you'll go without using the site for a long time.
There are 100 reviews of NotebookingPages.com on the Crew blog this week. Make sure to click over and read about how this resource worked in other families!
Blessings,