One of our favorite things to eat is pasta. It's easy, cheap, and can feed a lot of people with not too much effort. Finding a good sauce to make is even better. I found this one from AllRecipes a while ago, but I've modified it to make it even easier (and quicker!) for my family. The first time I made it for my in-laws, they both raved about how good it was, so I decided I wanted to share my version of the recipe here. I hope you like it too.
These quantities are for my family of 8. Adjust accordingly for your family size.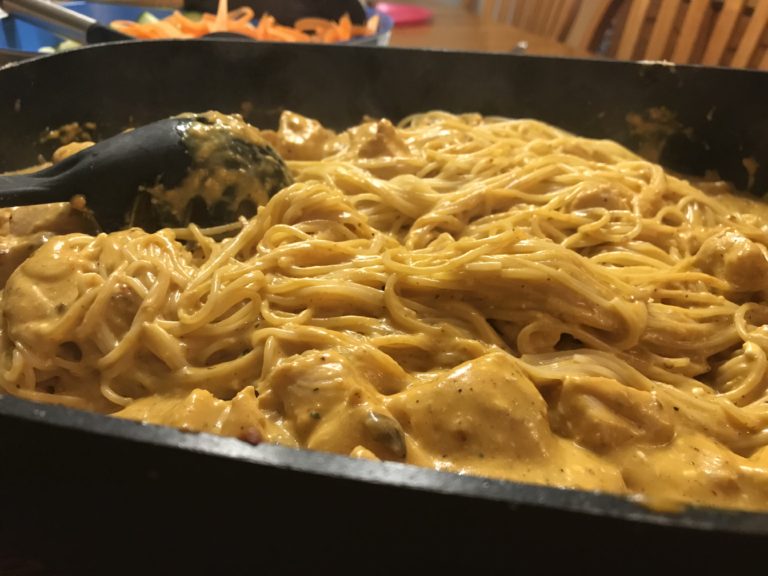 Angel Chicken Pasta
Ingredients:
3-4 chicken breasts, diced
1/2 stick butter
2 packets dry Italian dressing mix
1 cup white wine (I use cooking wine since we don't drink)
2 cans condensed Golden Mushroom soup (Campbell's brand)
1 brick cream cheese (8 oz)
1 1/2 pounds angel hair pasta
Instructions:
Cook the pasta according to package directions.
Meanwhile, cook the chicken in a touch of oil until no longer pink. Add the Italian dressing mix and white wine and stir to dissolve the dressing. Cook for a minute or two to evaporate the alcohol in the wine. Stir in the soup and butter; heat through. Add the cream cheese and stir until melted and heated all the way through.
Combine the pasta and sauce. Serve with your choice of sides (salad and bread).
Blessings,