The past few weeks, I've focused quite a bit on what a literature-based homeschool looks like, at least in our family. Today, I'm just going to do a short roundup of some of the best resources for this type of schooling experience that I've come across. This is by no means comprehensive, but I hope it will give you a jumping off point and encourage you to dig around the internet for even more resources as you homeschool your own children.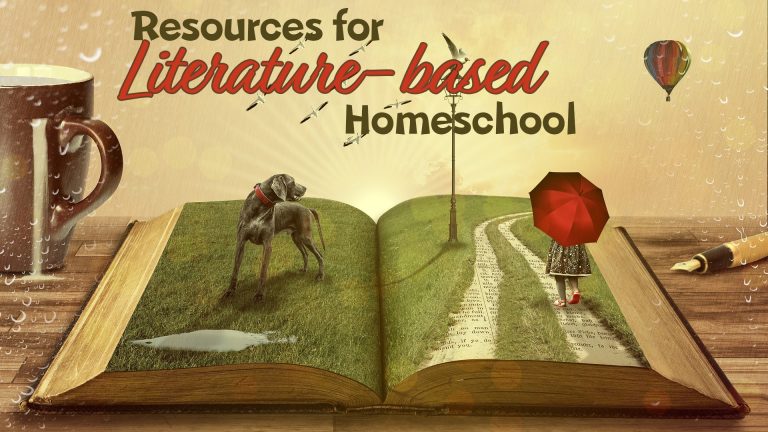 This is a free homeschool curriculum that uses the Charlotte Mason technique of homeschooling. We used them as our core curriculum one year when my teens were in elementary school, and it was a great year. We learned a lot that year, and were introduced to tons of great books. It is a lot of reading, but the books are wonderful so it's not tedious.
This is a place I've discussed very recently because we've been using their animal lap books for Dragonfly's kindergarten classes. We also recently started a Hanukkah lap book with both Grasshopper and Dragonfly, and I'll share more about that in a couple of weeks. But Homeschool Share also has tons of lap books and unit studies that are based on children's novels, and those are some of my very favorite ways to teach my kids!
I first came in contact with Leah when we were both members of the Homeschool Review Crew years ago. I still am a member there, but she's moved on as her kids have aged and now she is focused more on providing fantastic literature-based studies for other homeschool parents. She has over 50 literature-based unit studies available as a free ebook (just sign up for her mailing list) as well as loads of paid ones, too. You should definitely check her out; you won't be sorry!
I had the absolute pleasure of reviewing a couple of their courses a few years ago, and let me tell you: if budget wasn't a consideration, we would be using them exclusively. I loved their curricula. It was such a great way of learning in a hands-on, living-book way. Even if you can't afford their full year curriculum, I think everyone should try out at least one of the classes at some point.
I don't actually have any experience with this one personally, but I know of a lot of families who do, and I've never heard a single bad word about it. Sonlight was founded in 1989 by a missionary couple who were pioneers in the literature-based community. Their method is to start with history and find real, interesting books to do the teaching. No textbooks found here! They offer a full curriculum based on the grade/age of your children.
This is another one that I don't have a ton of personal experience with, but I'm on their mailing list and their studies look amazing. And what's even better is that they've recently started migrating all of their studies over to a new site and made them completely free! They charge for some of their printables, but the base studies are now completely free. You can use the paid printables to supplement, or create your own papers to go along with the studies.
You might have read my most recent review from Progeny Press; if you did, you'll know all about them. I really like their study guides, which are great for a wide range of children's ages. I'm not going to go too much into them here, though. Read any of my reviews for more information.
2021 | 2020 | 2018 | 2017 | 2016 | 2015 | 2014
Design Your Own
One thing I've learned over the years is that a literature-based homeschool doesn't have to be complicated. You need a few non-literature subjects to hang the framework on (math, for instance), but from there it's really "anything goes." I tend to choose a book or series to read with my kids and then add things to that. I remember a few years ago when I read Henry and the Paper Route to them and we built an entire unit study around newspapers. We made a lapbook, created our own paper using shreds from newspapers, and even took a field trip to the local newspaper office. It was fantastic! You can build spelling lists from the novel, and make grammar lessons that use phrases from the book as examples. The sky really is the limit.
I hope this post will encourage you to try one or more of these resources, or maybe even try your hand at creating your own literature experience for you children. In either case, I encourage you to explore a literature based schooling experience with your children.
Blessings,